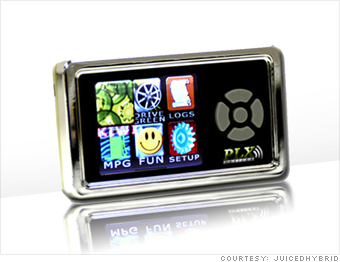 The Kiwi gas mileage device is designed to help users save gas by teaching them how to drive more efficiently.
Juiced Hybrid, the company that makes the gadget, says it can improve gas mileage by up to 30%, which could translate to a savings of $560 a year for the average commuter.
In addition, the company says Kiwi can help reduce a car's carbon emissions by 1.8 tons per year.
The Kiwi can be used in any car made after 1996, including non hybrids.
The device scores how efficiently a user drives based on measurements of smoothness, drag, acceleration and deceleration. Drivers are challenged to achieve a better score by altering their driving habits.
The Kiwi, which was designed by a former race car driver turned hybrid-enthusiast, costs $399.