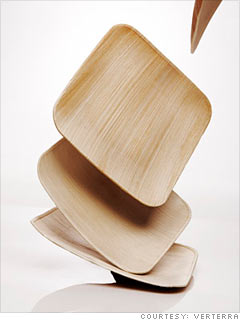 These disposable plates, bowls and serving dishes are made from fallen leaves and water.
The company that makes them, Verterra, collects leaves that would normally be burned and applies steam and pressure in a chemical-free process to turn the leaves into durable dishware that will naturally compost in 2 months.
The plates and bowls are microwaveable and oven safe. But Verterra does not recommend washing and reusing them.
While corn-based disposable plates have been on the market for some time, Verterra hopes its stylish design will set it apart from the competition.
The plates and bowls are sold in packages of six for $4.

More galleries