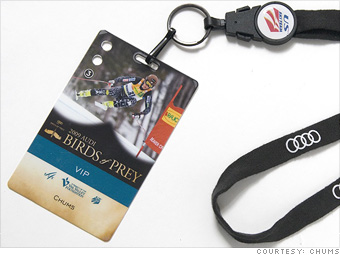 Official Lanyard Supplier, U.S. Ski Team and U.S. Snowboarding
It may not be a gold medal, but don't underestimate the importance of this little piece of neckwear at the Olympic Games. Every athlete and visitor at the Olympics will be hanging tight to their lanyard and the credentials it carries.
Chums, a lanyard-maker based in Hurricane, Utah, sold about 10,000 lanyards to the ski and snowboarding teams at a discounted rate, thus becoming their "official lanyard supplier." Chums logo won't be appearing on the cords -- those spots are reserved for the big-money sponsors like Audi, Anheuser-Busch and Visa -- but company co-owner Tom Ferries doesn't mind. He sees the lanyard deal as a way for his company to honor its Olympic ties. His father, Chuck Ferries, was an Olympic skier in 1960 and 1964.
"We always want to be a part and help every way we can, even with our little teeny business," Tom Ferries says. "We get to help out the ski team, and it's a good thing for us. We get sales; they get inexpensive, made-in-America lanyards at a reduced cost."

NEXT: Vulcan Global Manufacturing Solutions