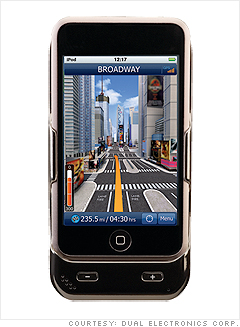 Dual Electronics Corp.
XGPS300 Navigation Cradle for the iPod Touch.
Price: TBA
If there is such a thing as a sleeper of an Apple product, it is the iPod Touch. The iPhone gets all the glory -- and most of the apps -- but the Touch has quietly been attracting developer and third-party attention. Enter Heathrow, Fla.-based Dual Electronics. The company is set to release later this year a GPS attachment and in-car power module that turns the standard-issue Touch into a nav-savvy device.
Put the Touch into the Dual cradle, engage the GPS, connect it to your car's power supply, and voila, the stodgy Touch is a now bomb-proof nav tool capable of supporting literally dozens of third-party Apple nav apps like IGo, TomTom and NDrive. A simple and slick solution to the age-old search for directions.