From 3-D TV to mobile video conferencing and tricked out e-Readers, the latest in tech is being unveiled this week at the Consumer Electronics Show. Here's what's hot.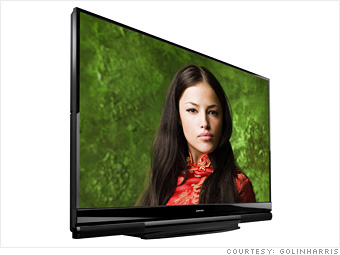 Mitsubishi Digital Electronics America
82 inch 3-D Readrt DLP TV
Price: $4,999
With a massive 82 inch, 3-D-ready television, TV laggard Mitsubishi is attracting fresh buzz at this year's CES. The company is betting its clear and bright rear projection set will take some bite out of TV heavies like Sony, Panasonic and Samsung.
Yes, 3-D TVs like these will require consumers to wear special glasses. And most folks have just gotten done upgrading to a flat panel that is most likely not 3-D ready. But Mitsubishi hopes to bridge this gap with a TV set that works both with 2-D and the new 3-D programming that's rolling out. ESPN just announced it will be launching a 3-D network that will highlight 84 sports events this year, including matches for the 2010 FIFA World Cup. And Discovery Communications announced its own 3-D network.
There are drawbacks to this TV: rear projection sets like this have bulbs that must be replaced from time and time. And there is cleaning and other maintenance. But still, an 82 inch 3-D set with a street price that could fall below $3,000 by mid 2010?
Mitsubishi just might have just a 3-D winner on its hands.
NEXT: 2) A different kind of Android phone