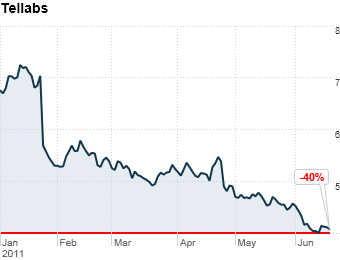 YTD performance: -40%
Market cap: $1.5 billion
Weak fourth-quarter results and a bleak earnings outlook sparked a one-day 20% plunge in shares of Tellabs (TLAB) earlier this year.
The network equipment maker's stock price continued to decline, and a first-quarter earnings miss in April didn't help.
The company's CEO, Rob Pullen, said Tellabs is positioning itself for long-term success by investing heavily in research and development to advance mobile Internet and, in turn, is willing to sacrifice profits in the short-term.
Analysts remain cautious, with a majority recommending a 'hold' rating on the stock.