Recovery.gov's citizen accounting effort
The government's online effort to track stimulus money could transform public spending by allowing you to play Big Brother, but it's off to a slow start.
Photos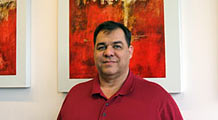 Video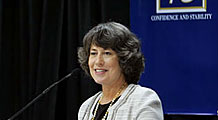 The Fixers
7 people are in charge of rescuing the economy. Here's who they are and how they plan to do it.
Map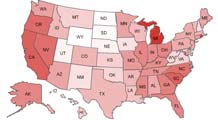 NEW YORK (CNNMoney.com) -- At first glance, it seems the government's online attempt at tracking where and how stimulus money is being used isn't delivering on its promise of unparalleled transparency.
The government's http://www.Recovery.gov/ is supposed to be the place where everyday citizens can go and see exactly who's getting the $787 billion in taxpayer funds designed to boost the economy.
"This is your money," reads a statement on the Web site's homepage. "You have a right to know where it's going and how it's being spent."
Yet the first thing one sees on the homepage is a big pie chart saying 60% of the money is going to states and 40% to local governments, hardly the detailed breakdown the government has promised.
Taxpayers interested in learning what projects are being funded in their backyard will find some of the information is available, but only after a complicated search.
For example, it's only after clicking through five links, including one mysteriously titled "certification," that one can see a list of roadwork projects in New York State. The list is not hosted on Recovery.gov, it's on New York State's "recovery" Web site. Moreover, it is difficult to read a PDF photocopy that is published sideways.
Beyond that, the list assumes that readers are fluent in the nomenclature of state and federal bureaucracy. For example, the entire description for one item is "Bridge painting project (including, but not limited to BINs 1002180, 1026220, 1042210, 1051240)."
"Is it working in a way you and I would think is terribly useful? Maybe not," said Andrew Moylan, director of government affairs for the National Taxpayers Union, an advocacy group calling for lower taxes and a smaller government.
Congress will likely ask about the site too. On Thursday Earl Devaney, President Obama's lead man on stimulus accountability, is set to testify before the House Oversight committee.
But despite these initial hiccups, most experts say the site is well designed and has built the foundation to truly deliver on its promise of unprecedented transparency in government spending.
Going big
First off, the stimulus bill was just signed a month ago. While some money has begun to flow, most is still awaiting appropriation.
Second, tracking this type of spending information across all the different federal agencies, and then down to the state, local and ultimately contractor level isn't something that's ever been done before.
This isn't a few dozen government agencies handing out a couple thousand contracts that can be easily aggregated in a list. This is thousands of different agencies handing out tens of thousands of contracts, all aggregating back to one federal Web site.
The fact that all these different agencies have set up different Web sites that can all communicate with one another in such a short period of time has some people amazed.
"My god, 25 different agencies put up Web sites within a month that actually had similar elements and information exchange," said Greg Elin, a technology expert for the Sunlight Foundation, a group that promotes greater government use of the Internet for transparency. "This is very significant."
It's not so much how Recovery.gov will present the data that has Elin so excited, but how they are requiring it to be collected.
Each agency reporting to Recovery.gov has to put their press releases through an RSS feed, which automatically aggregates them to the federal site. The pages themselves are written in a form that is readable by computer. And most numbers (the aforementioned PDF file not withstanding) have to be in tabular as well as graphic format.
This means that third parties should be able to easily use the numbers posted on Recovery.gov and overlay them with other data to make really useful analyses.
Elin thinks it will be a mere six months before a government watchdog group overlays data from Recovery.gov with Google maps, making a type of site where people could put in their zip code and see what stimulus projects are happening in their area.
But there's deeper stuff too.
Sociologists should be able to overlay stimulus numbers with census data to see what races or classes are benefiting most. Political scientists can overlay it with lobbing and campaign contribution data and see if there's a correlation between dollars donated and dollars received. Economists can overlay local GDP data and see if stimulus is really working. Investors could even use it for "trend analysis" - i.e., if an interchange goes up in Toledo, we know to expect three gas stations and a McDonalds within a year.
"Only the government can make this type of information available," said Elin. "And they're using the same automated language that everyone else is using on the Web."
A handful of third-party Web sites tracking stimulus spending have already sprouted, including Stimuluswatch.org, Readthestimulus.org, and USbudgetwatch.org/stimulus.
"We'll use it for information," said Maya MacGuineas, president of the Committee for a Responsible Federal Budget, a non-partisan watchdog group that runs the USbudgetwatch site. "It's going to be a massive amount of information, but so far it looks like they're off to a great start."
And Recovery.gov looks pretty too.
Web designers gave the site high marks for having a clean design, employing open-source software, working on various browsers, and having things like text-enlarging capabilities to help the visually impaired.
"Many major sites on the Web aren't putting that type of effort in," said Josh Viney, director of product development at Eastmedia, a New York-based Web design company. "It's definitely professionally done, much clearer than most government sites."
When will it deliver?
It's not certain when Recovery.gov will add more data to its site or present it in a more user-friendly way. The White House, which runs the site, did not respond to requests for comment.
In addition to rolling out more data, MacGuineas would like to see a greater ability of cross reference data and filter information on Recovery.gov itself.
Adam Harvey, a graphic designer who has a blog tracking the usefulness and usability of government Web sites, said that he'd like to be able to sign up to receive the RSS feeds directly. He'd also like to be able to tailor the RSS feeds that came to him, like signing up only for updates from the Energy Department, for example. So far, it doesn't appear one can do that.
The Sunlight Foundation's Elin said a main problem tracking the stimulus money doesn't have to do with the Web site itself, but rather what's required to be reported.
While states have to say where they are spending the money, the disclosure won't go too far beyond the contractor level. That means lots of money could go to lots of sub-contractors with little accountability, at least on the federal level.
Still, he's excited to not only get more data from Recovery.gov, but to see if this model for accountability can be replicated with other government spending as well.
"Recovery.gov is a big experiment in tracking government spending on the Web," he said. "What works here will be used elsewhere."

Features

These Fortune 100 employers have at least 350 openings each. What are they looking for in a new hire? More

It would be the world's second-biggest economy. See how big companies' sales stack up against GDP over the past decade. More