Lawmakers lash out over AIG
Geithner and Bernanke say they lacked means to deal with troubled insurer - need power to prevent similar incidents. Lawmakers call bailout botched.
Video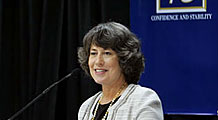 The Fixers
7 people are in charge of rescuing the economy. Here's who they are and how they plan to do it.
WASHINGTON (CNNMoney.com) -- The officials managing the bailout of AIG, facing an onslaught of questions from angry lawmakers Tuesday, said the government had no choice but to effectively seize control of the troubled insurer last September and asked for more power to prevent a similar collapse in the future.
Treasury Secretary Tim Geithner, Federal Reserve Chairman Ben Bernanke and New York Fed President William Dudley were grilled at a House Financial Services Committee hearing. It marked the second time in a week that a House panel took up the controversial $182 billion government rescue of AIG (AIG, Fortune 500).
"The close to $200 million in bonuses paid out to AIG's employees was merely last week's TARP outrage of the week," said Rep. Jeb Hensarling, R-Texas. "The outrage, however, pales in comparison to the outrage that taxpayers have now seen four different bailouts with no apparent end in sight."
Committee members were furious over the handling of the company's bailout. Regulators said they were frustrated that they had to bail out the company in the first place.
"AIG highlights broad failures of our financial system," Geithner said.
Still, when asked what the alternative to the current rescue plan might look like if AIG's bailout doesn't succeed, Geithner said there was no alternative.
"This plan will work," said Geithner, who said the program is already showing signs of success, including the company's ability to sell off some assets and raise capital.
More regulation needed
To prevent a repeat of the AIG fiasco, the officials called on Congress to grant regulators so-called resolution authority. That would give the government power to reorganize or wind down a non-bank company. Such powers would include selling off assets and subsidiaries, imposing limits on executive compensation and taking action on risky holdings.
"No legal means existed to resolve AIG to the way FDIC resolves a bank," added Geithner. "The government was faced with no good options."
They said that the government could have been better equipped to stem AIG's risky business practices before its failure threatened to bring down the financial system, arguing that such regulatory authority would have lessened the scope of the mess the insurer and the taxpayers find themselves in now.
Accordingly, Committee Chairman Barney Frank, D-Mass., argued that the government needs a regulator to supervise non-bank financial institutions just as the Federal Deposit Insurance Corp. oversees banks.
"When non-bank major financial institutions need to be put out of their misery, we need to give somebody the authority to do what the FDIC can do with banks," said Frank. "It is giving somebody a form of the bankruptcy power given under the Constitution. It allows us to avoid the choice of all or nothing -- nothing in the case of Lehman Brothers, all in the case AIG -- equally unacceptable alternatives."
After the hearing, Frank said that he has received some resolution authority language from the Treasury and said he generally agrees Congress should move forward on that, perhaps even as quickly as next week, but wouldn't say if that power should lie with the Treasury or the FDIC.
Regulators also suggested that the government increase its regulation of derivatives like the collateralized debt obligations, asset-backed securities and credit default swap agreements that brought down AIG. Geithner suggested that these financial products be moved to central clearing houses and open markets to allow better regulation of them.
"It is very important through a mix of law and regulation to bring these markets under an oversight framework," Geithner said. "But we need to get the world to move with us: There is a risk that capital will shift out of the United States otherwise."
The Treasury secretary will again appear before the committee on Thursday to further discuss the administration's proposals for regulatory reform. Geithner is expected to present his regulatory proposals at the upcoming G-20 conference in London beginning on April 2.
Fed wanted to sue over AIG bonuses
Bernanke and Geithner also faced tough questions about the hundreds of millions of dollars of bonuses that went out to executives at AIG's financial products division.
Bernanke testified that he wanted to sue AIG to prevent the payment of millions of dollars of retention bonuses to executives from the division that brought the firm to its knees.
But Bernanke said that he was advised against filing a lawsuit, because the government would have needed to pay "substantial punitive damages" if the Fed lost the case, essentially awarding extra benefits to the executives from the troubled financial products division.
"My reaction upon becoming aware of these specific payments was that ... it was highly inappropriate to pay substantial bonuses to employees of the division that had been the primary source of AIG's collapse," Bernanke said. "[But] legal action could have [had] the perverse effect of doubling or tripling the financial benefits to the AIG-FP employees."
Several legislators suggested that there was, in fact, a legal ability to change the terms of the contracts without facing possible punitive damages. Bernanke said he believes they explored every possible legal option, but will continue to work to recoup the bonuses that have not been returned.
"I'm hopeful that you're right," Bernanke said. "We'd like to explore every possible action."
Anger about transparency
The regulators -- especially Geithner -- faced intense scrutiny from lawmakers, who scorned the Fed and Treasury for what they believed was a lack of transparency. Lawmakers many times looked for "yes" or "no" answers from their questions, and scolded the officials for attempting to avoid giving a black or white answer.
One such exchange occurred between Rep. Maxine Waters, D-Calif., and Geithner. Waters pressed the Treasury secretary to say whether Goldman Sachs (GS, Fortune 500) is getting preferential treatment, given their connections to the Treasury.
"I think it's deeply unfair [to suggest employees] were making judgments that were in their view were not in the best interest in the American people," Geithner said.
Geithner also had a heated exchange with Rep. Brad Sherman, D-Calif. Sherman asked Geithner to commit to posting the number of executives receiving bonuses in excess of $1 million at bailed out institutions.
When Geithner tried to explain how the Obama administration had similar plans, Sherman interrupted him and accused him of wanting to "hide the ball."
Rep. Donald Manzullo, R-Ill., complained that he couldn't get a yes or no answer. His question: Did AIG bailout money prop up retirement plans at firms that did business with AIG, even as the American public has lost 40% on their investments because of the financial crisis?
"That's because it's a poorly posed question," Bernanke said. "Had we not intervened, they would have lost 70%."

Features

These Fortune 100 employers have at least 350 openings each. What are they looking for in a new hire? More

It would be the world's second-biggest economy. See how big companies' sales stack up against GDP over the past decade. More