Unemployment jumps in 49 states
Michigan's jobless rate - 12% - is highest in nation. Wyoming is lowest. Nebraska escapes with tiny decline.
Map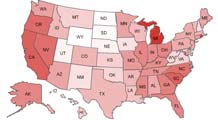 Photos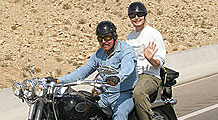 NEW YORK (CNNMoney.com) -- The unemployment rate jumped last month in 49 states, with Michigan leading the way, the U.S. government reported on Friday. Nebraska was the only state to escape rising joblessness.
The near-collapse of the auto industry pushed Michigan's unemployment rate up to 12% in February, seasonally adjusted, according to the U.S. Department of Labor.
Sky-high unemployment rates were also reported in South Carolina (11%), Oregon (10.8%), North Carolina (10.7%), California and Rhode Island (10.5% each), and Nevada (10.1%).
The most drastic month-to-month increases in the unemployment rate were reported in North Carolina and Oregon, which each saw an increase of 1%. New Jersey also saw a dramatic surge, climbing 0.9% in February.
John Lonski, chief economist for Moody's Investors Service, said that many of these states - including Michigan, Rhode Island and the Carolinas - are struggling because they are heavily reliant on the sluggish manufacturing industry.
"This reminds us of how manufacturing employment did not grow once during the latest economic recovery, mostly because of the outsourcing of manufacturing activity to countries such as China," he said.
In California and Nevada, he says, jobs are disappearing because the construction industries were hit hard by the housing crisis.
"Their economies became overly dependent on the housing bubble," he said. "Now that the housing bubble has burst, jobs associated with residential real estate have disappeared."
John Cooke, economist for the Oregon Employment Department, said the job market in his state is hit hard by its reliance on the manufacture of durable goods for the housing industry. He said that Oregon is a major producer of construction lumber, such as two-by-fours and window frames, but California, its biggest customer, is staggering from its battered real estate market.
Oregon was one of three states, including North and South Carolina, that saw its unemployment rate soar by more than 5% year-to-year.
Nebraska was one of the few states with good news in this winter of discontent, with its jobless rate notching down to 4.2% in February from 4.3% in January.
"That's because Warren Buffet is from Omaha," joked Lonski of Moody's.
Wyoming, which is rich in resources like oil and gas, has the distinction of possessing the nation's lowest unemployment rate in February: 3.9%. But the rate still rose month-to-month, by 1.1%, as a result of layoffs stemming from the downturn in oil prices.
Regionally, unemployment hit the West the hardest, at 9.2%, the government said. The Northeast was the least affected region, at 7.7%.
Nationwide the unemployment rate rose to the 25-year high of 8.1% in February, from 7.6% the prior month. This is a dramatic change from February 2008, when the unemployment rate was 4.8%.
A dramatic increase in the unemployment rate was seen in New York City, which outpaced the increases seen by any of the states. The city's unemployment rate surged to 8.1% in February from 6.9% in January, according to state figures released Friday. This is the city's highest unemployment rate since October 2003.
On April 1, the U.S. Department of Labor will release the unemployment figures for cities and metropolitan areas.

Features

These Fortune 100 employers have at least 350 openings each. What are they looking for in a new hire? More

It would be the world's second-biggest economy. See how big companies' sales stack up against GDP over the past decade. More