Crackdown on housing scams
Treasury chief Geithner leads effort to stop foreclosure and mortgage fraud as Feds worry that mortgage rescue will bring out bad guys. FBI: 2,100 open cases.
Map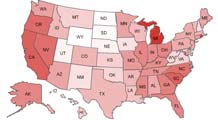 NEW YORK (CNNMoney.com) -- In the wake of an Obama administration program to rescue troubled homeowners, several federal agencies are teaming up to fight mortgage and foreclosure scams, Treasury Secretary Tim Geithner said Monday.
The administration's $75 billion effort to help as many as 9 million mortgage holders get new or refinanced loans is drawing a lot of interest from homeowners, Treasury Department officials explained.
"Those who would seek to prey on the most vulnerable also seek to intensify their efforts as well," Treasury Secretary Tim Geithner said. "We will aggressively pursue those involved in mortgage rescue scams."
Treasury, the Department of Justice, the Federal Trade Commission and the Department of Housing and Urban Development will lead the effort from Washington. State attorneys general will also participate.
The Treasury's financial crimes investigative unit is sending financial institutions a checklist to help them spot suspicious loan activity and foreclosure rescue scams.
Meanwhile, the Federal Trade Commission reviewed online and print advertising for mortgage foreclosure companies nationwide and found "71 distinct companies running suspicious ads," Treasury said.
The FTC has filed five civil cases against companies offering loan modification or foreclosure services, including one against a company that spent $9 million on TV and radio ads in less than a year.
"These companies are kicking people when they're down, charging enormous upfront fees and sabotaging homeowners who could be getting help for free," said FTC Chairman Jon Leibowitz. "These companies are giving people false hope. They are shameless, as well as opportunistic."
The initiative will bring more resources for the FBI and the Justice Department to investigate and prosecute mortgage fraud, Housing Secretary Shaun Donovan told a congressional panel last week.
The announcement is timely. Mortgage fraud has reached an all-time high even as the number of home loans being issued has shrunk, according to a report issued last month by the Mortgage Asset Research Institute and the Mortgage Bankers Association.
The FBI is investigating more than 2,100 mortgage fraud cases, up almost 400% from five years ago, Attorney General Eric Holder said.

Features

These Fortune 100 employers have at least 350 openings each. What are they looking for in a new hire? More

It would be the world's second-biggest economy. See how big companies' sales stack up against GDP over the past decade. More