Geithner: Stress tests clear bank 'uncertainty'
Treasury Secretary says the government's assessment of 19 major banks will help bring capital into the financial system.
Video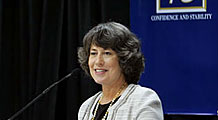 The Fixers
7 people are in charge of rescuing the economy. Here's who they are and how they plan to do it.
NEW YORK (CNNMoney.com) -- Treasury Secretary Tim Geithner said Thursday the stress tests of the nation's biggest financial services companies will help bring capital into the financial system by lifting the "fog of uncertainty" over the banking sector.
The results of the stress tests, which were conducted on 19 of the nation's largest banks, are due to be officially released later Thursday. The goal is to assess the banks' health and determine which may need to raise more cash to be considered stable enough to withstand another economic downturn.
"We chose a strategy to lift the fog of uncertainty over bank balance sheets and to help ensure that the major banks, individually and collectively, had the capital to continue lending even in a worse than expected recession," Geithner wrote in a New York Times op-ed.
"The effect of this capital assessment will be to help replace uncertainty with transparency," he said.
Geithner said the transparency provided by the tests will allow investors to distinguish healthy banks from those without adequate resources.
"It will also bring more private capital into the financial system," he said.
That will ultimately give banks more leeway to lend money to businesses and consumers. The return of private capital will also enable banks to repay their government loans, according to Geithner.
However, Geithner said banks will have the opportunity to request more capital from the government through the Treasury Department's Capital Assistance Program.
"Treasury is providing this backstop so that markets can have confidence that we will maintain sufficient capital in the financial system," he said.
Geithner said some banks will continue to restructure, selling off certain businesses, as they take steps to raise capital over the next six months.
He said "hundreds of supervisors" at the Federal Reserve, which oversaw the tests, worked over 45 days on "rigorously reviewing the banks' detailed loan data."
"They applied exacting estimates of potential losses over two years, along with conservative estimates of potential earnings over the same period, and compared them with existing reserves and capital," he said.
The test results have been the subject of much speculation as details have already begun to emerge.
Reports surfaced late Tuesday that Bank of America (BAC, Fortune 500) may need roughly $34 billion in capital to weather a more painful economic environment. Wells Fargo (WFC, Fortune 500) and Citigroup (C, Fortune 500) have also been frequently mentioned in recent days as two institutions in need of capital.
Other banks are believed to be in better condition. Goldman Sachs (GS, Fortune 500) and JPMorgan Chase (JPM, Fortune 500) have been increasingly cited as companies that probably won't be required to raise capital.

Features

These Fortune 100 employers have at least 350 openings each. What are they looking for in a new hire? More

It would be the world's second-biggest economy. See how big companies' sales stack up against GDP over the past decade. More