The Post Office strives to survive
The mail is looking for ways to make money and cut costs as it loses billions. But at least it doesn't want your tax money.
Bailout tracker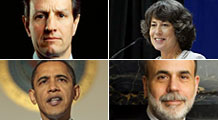 The government is engaged in a far-reaching - and expensive - effort to rescue the economy. Here's how you can keep tabs on the bailouts.
More
NEW YORK (CNNMoney.com) -- If the mail must go through, then it's going to cost a little more. On Monday, the United States Postal Service hiked up the price of stamps, as well as other delivery services.
But as the cash-strapped and debt-ridden agency fights for financial survival, it's considering much more drastic changes than adding 2-cents to the cost of a 42-cent stamp.
In testimony before the Postal Service's Board of Governors in January, Postmaster General John Potter said it "could become necessary to temporarily reduce mail delivery to only five days a week," from the current six-day service, which would effectively end Saturday delivery. The Postal Service estimates savings of $3.5 billion annually.
The Board of Governors oversees Congressional matters related to the Postal Service. A work-week reduction wouldn't happen any earlier than 2010, assuming it's approved by Congress.
Sen. Tom Carper, D-Del., who chaired the January hearing for the Board of Governors, said Congress is unlikely to approve a five-day week. "It's not my favorite option, and I don't think it's theirs, either," he said.
Instead, Carper said that the Postal Service is going to have to cut costs and maximize revenue, just like any other business.
"One of the things I try to get the Postal Service to do is endeavor to become more entrepreneurial," said Carper, in an interview with CNNMoney.com. "The Postal Service needs to continue to focus on their costs and look for revenues."
Even though it's a federal agency, the Postal Service has not received any taxpayer funding since the early 1980s, when it was phased into an independent, self-sufficient financial entity. "We're not seeking any tax dollars," said Postal Service spokesman David Partenheimer. "We don't use tax dollars for our operation."
Blame the economy
The Postal Service, founded in 1775 with Benjamin Franklin as the original Postmaster General, receives all of its money from revenue, just like a private business. And like many other businesses, the Postal Service blames the recession for its financial woes.
Chief financial officer Joseph Corbett said much of the revenue is dependent on business-to-business deliveries, as well as customer purchases via Internet, both which have been hard-hit in the economic slow-down.
Mail volume dropped to 203 billion parcels in fiscal year 2008 from its peak of 213 billion in 2006. That was its last year of profit, according to the Postal Service, when income totaled $900 million. Volume is expected to drop by more than 20 billion pieces this year, followed by a further drop of 10 billion next year.
In its most recent fiscal year, ending Sept. 30, 2008, the Postal Service reported a loss of $2.8 billion. In the six months since then, losses accelerated to $2.3 billion.
With debt, the Postal Service owed $3.3 billion as of March 31, and it expects to head another $3 billion into the red this year.
Cutting costs
CFO Corbett said the Postal Service is pursuing several strategies to boost sales and save money, including an upcoming "summer sale" providing rebates to large-scale mailers, as well as negotiated service agreements to lock business mailers into large volumes.
The Postal Service is also seeking Congressional approval to reduce, until 2016, some of its retirement fund contributions, from $7.5 billion annually to $5.5 billion.
"We're working on a bill that hopefully will be passed on the Hill that will relieve us of our obligation to pre-fund medical costs for retirees and future retirees," said Corbett. "We're required to pre-fund that obligation beyond what any other company is required to do."
The Postal Service is also capping executive pay and reducing its 700,000-strong workforce through attrition and early retirement, while avoiding layoffs. In this way, Corbett said 60,000 positions have been eliminated this year.
"Because the mail volume is declining, fewer work hours are needed to pick up and process the mail," said Postal Service spokeswoman Yvonne Yoerger.
The Postal Service has also formed money-saving partnerships, which it values at $1 billion per year, with competitors FedEx (FDX, Fortune 500) and United Parcel Service (UPS, Fortune 500). In addition to sharing aircraft, the Postal Service delivers FedEx and UPS packages along the last mile of their routes, since the postal workers are stopping at every address anyway.
"We're the only company that goes door to door to every address," said Partenheimer.
A green fleet
The Postal Service is also expanding into alternate means of delivery, including bicycles and an ill-fated experiment with Segways. Partenheimer said the bicycles have worked well, but the Segway batteries ran out of juice before they completed their routes.
The Postal Service is also switching its delivery trucks over to alternative fuels, to avoid volatile gas prices, Partenheimer said. Of the Postal Service's 221,000-vehicle fleet, he said that 43,000 are "alternative fuel capable."
He added that 20% of letter carriers make their deliveries by foot, including the 10,000 workers who "never get in a vehicle at all," further lowering fuel-related costs.
The Postal Service is also considering various ways to use its post offices, the actual brick-and-mortar locations, to draw revenue. The structures might be used to host wireless digital service for telecoms, said Corbett. Also, one post office near Chicago is being tested as a lounge-style retail business center, with Wi-Fi and printing services.
Carper said the Postal Service could do even more with its brick-and-mortar locations. It could use them as recharging stations, he said, not just for its own vehicles, but for paying customers.
"There's a potential for the Postal Service to become part of a hydrogen infrastructure for a network of vehicles," said Carper. "The Postal Service, in part, needs to reinvent itself."

Features

These Fortune 100 employers have at least 350 openings each. What are they looking for in a new hire? More

It would be the world's second-biggest economy. See how big companies' sales stack up against GDP over the past decade. More