Minorities lose housing gains
The recent bust has wiped out some of the gains made by African Americans and Latinos at a faster rate than for whites.
Map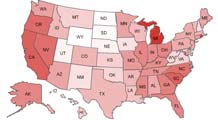 NEW YORK (CNNMoney.com) -- Some of the rapid gains in homeownership made by minority Americans during the last housing boom have been wiped out by the latest bust, according to a report released Tuesday.
An analysis by the Pew Hispanic Center, an arm of the Pew Research Center, which is an independent, public opinion research group, revealed that homeownership rates grew faster for minority groups than for native born whites for about 10 years starting in 1995.
But the housing bust, which really began to pick up steam about three years ago, has set things back. The foundering economy is responsible for most of the homeownership decline, especially for native-born Latinos, according to Rakesh Kochhar, Pew Hispanic Center's Associate Director for Research.
"It's definitely the economic circumstances," Kochhar said. "Officially, the recession began the fourth quarter of 2007, but Hispanic unemployment started rising sharply a year before that."
Pew obtained its homeownership data from the Current Population Survey produced by the U.S. Census Bureau.
The homeownership rate for native-born Latinos peaked in 2005 and has fallen 2.6 percentage points since then to 53.6%. African American homeownership increased to 49.4% in 2004 from 41.9% in 1995 and has now fallen back to 47.5%, a 1.9 percentage point drop. Asian homeownership, which jumped faster than any other group during the boom to 60.8% in 2006 from 49.1% in 1995, fell to 59.1% in 2008, a fall of 1.7 percentage points.
Meanwhile, white native-born homeownership grew to 76.1% in 2004 from 70.5% in 1995. In 2008, 74.9% of whites owned their homes, a 1.2 percentage point loss from the peak.
Immigrant households have fared better during the downturn than those of native-born Americans. The figure for all immigrants declined only slightly to 52.9% from 53.3%. There was no loss in homeownership for foreign-born Latinos; 44.7% own homes, according to the data.
Overall, the U.S. homeownership rate fell to 67.8% in 2008 from 69% four years earlier, a loss of 1.2 percentage points.
Blame game
Latinos were hit hard by the crash in the housing industry. They account for about 12% to 13% of the overall work force, according to Kochhar, but they hold one in four construction industry jobs.
Another damaging factor,according to the study, is the dangerous mortgages used to buy their homes. Latinos, and more so blacks, were far more likely than whites to get saddled with high-cost, typically subprime loans, which failed at higher rates and sent more minority homeowners into foreclosure.
Pew reports that 27.6% of home purchase loans issued to Hispanics in 2007 and 33.5% of the ones issued to blacks were higher priced loans, compared with just 10.5% of home purchase loans obtained by whites.
The analysis of higher-priced loans was from data collected by the Federal Reserve Board under the Home Mortgage Disclosure Act. The mortgages defined as higher priced were typically about 3 percentage points above the rate on a typical 30-year fixed-rate mortgage.
For minorities, it may not even matter how well off they are, when it comes to mortgage borrowing. The Pew report charged that high-income Latinos and African Americans are just about as likely to receive a higher priced loan as their low-income counterparts. High-income whites are half as likely as low-income whites to receive a higher priced loan.
Also cutting into homeownership for minorities is that they have been less likely to win approval for mortgage loans for purchase than are whites, according to the report.
In 2007, lenders issued loans on 50.4% of applications for home purchase from Latinos, slightly more than 46.9% for blacks, according to Pew. For whites the figure was 70.5%. Denial rates were greater for Hispanics (26.1%) and blacks (30.4%) than whites (12.1%).
Despite recent setbacks, all minority groups have closed some of the gap with white households since 1995.
The Latino homeownership rate in 1995 at 42.1% was 28.4 percentage points less than the white rate of 70.5%. The gap in 2008 fell to 26 percentage points. Asian homeownership was 21.4 percentage points less in 1995 and 15.8 percentage points in 2008. The black gap shrank from 28.4 percentage points to 27.4.

Features

These Fortune 100 employers have at least 350 openings each. What are they looking for in a new hire? More

It would be the world's second-biggest economy. See how big companies' sales stack up against GDP over the past decade. More