Can big banks escape the TARP?
Experts warn of risks involved if the government makes good on its promise to let more banks return taxpayer funds and exit the controversial bailout program.
Bailout tracker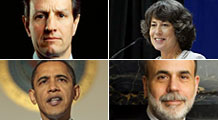 The government is engaged in a far-reaching - and expensive - effort to rescue the economy. Here's how you can keep tabs on the bailouts.
More
NEW YORK (CNNMoney.com) -- With the stress tests behind them, banking regulators now face the potentially thornier issue of deciding which banks, if any, should be allowed to repay government funds.
Since regulators unveiled a long-awaited blueprint for returning money from the Treasury Department's Troubled Asset Relief Program last week, lenders have been scrambling to raise cash so they can pay back TARP funds.
Four companies that were among those included in the stress test -- BB&T (BBT, Fortune 500), U.S. Bancorp (USB, Fortune 500), Capital One (COF, Fortune 500) and Bank of New York Mellon (BK, Fortune 500) -- all announced plans Monday to raise capital which would go towards buying the preferred stock and warrants associated with the government's stake.
Before they can return taxpayer funds, banks first have to prove that they can issue debt without having to rely on the Federal Deposit Insurance Corp.'s debt guarantee program.
Even if they are able to do that, many experts contend that regulators may be tempting fate by allowing banks to carry out their TARP repayment plans.
Consider the issue of compensation. As a result of legislation passed earlier this year, banks that participate in TARP are required to rein in outsized bonuses for senior executives and top earners.
Goldman Sachs (GS, Fortune 500) and JPMorgan Chase (JPM, Fortune 500) are two financial firms widely believed to very close to getting out from under the TARP program. Should they get approval to pay back taxpayer funds, they would no longer be subject to those compensation restrictions.
As a result, they may have a huge advantage over rivals given their ability to lure top earners away from banks that still have to place limits on salaries and bonuses. That could make it even tougher for some of the struggling banks to remain competitive.
"If you let a big firm out, they can hire the best 200 people on Wall Street at a discount," said one compensation consultant who could not speak publicly on the subject.
There is also the potential impact on bank stocks. Even though shares of many banks have rallied in the past two months, Jeff Davis, director of research at investment bank Howe Barnes Hoefer & Arnett, said some investors may now steer clear of lenders that are operating under heightened government and taxpayer scrutiny.
"All other things being equal, over time, [banks that have paid back TARP] are going to have substantially better valuations than those that remain semi-wards of the state," he said.
But perhaps the biggest risk in scaling back the program remains the fact that the government could very well sabotage what the TARP program was originally designed for: to keep credit flowing in the nation's economy.
Until last week, federal officials had offered few indications on how they would respond to the growing chorus of larger banks like JPMorgan Chase and Goldman Sachs that are looking to pay back government funds.
So far, a dozen TARP recipients have managed to repurchase their shares from the Treasury Department, according to agency transactions records.
But many of those firms have been community banks - institutions that provide just a small amount of credit to the overall economy.
Part of the problem is that regulators may be worried about allowing a big bank to repay the money, only to find that the economy takes a severe turn for the worse, notes Kevin Petrasic, a former Office of Thrift Supervision official who is now an attorney in Washington at the law firm Paul Hastings.
"The last thing you want to have is a company pay the money back and find out 3, 6 or 9 months later they really shouldn't have," Petrasic said.
In theory, the stress tests should solve that problem since most of the big banks eager to pay back TARP were found to not need more capital.
Still, some think regulators may only be willing to allow community banks or other non-traditional banks like asset manager Northern Trust (NTRS, Fortune 500) to be among those institutions that return taxpayer money in the weeks and months ahead.
But for the major financial players like JPMorgan Chase that are responsible for making billions of dollars of loans every quarter across the country? Don't be surprised if regulators drag their feet a little longer in order to prevent them from quickly returning TARP funds, experts warn.

Features

These Fortune 100 employers have at least 350 openings each. What are they looking for in a new hire? More

It would be the world's second-biggest economy. See how big companies' sales stack up against GDP over the past decade. More