Oil ends above $60 - 1st time since November
Government reports that crude oil and gasoline inventories fell last week. Another up day on Wall Street also props prices.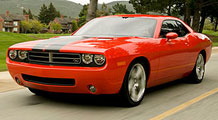 Get ready for a truly amazing fire sale. Many doomed Chrysler dealerships are stuck with some decent cars and trucks on their lots that they need to unload by June 9.
NEW YORK (CNNMoney.com) -- Oil's most active contract settled above $60 a barrel for the first time in more than 6 months after a government supply report showed stockpiles shrinking and U.S. stocks rallied.
U.S. light crude for July delivery -- which became the active contract Wednesday -- settled at $62.04 a barrel, up $1.94 The settlement price was the highest since Nov. 10.
In its weekly inventory report, the Energy Information Administration said crude stocks decreased by 2.1 million barrels in the week ended May 15. Analysts were looking for a drop of 1.5 million barrels of crude oil, according to a consensus estimate of industry analysts surveyed by Platts, a global energy information provider.
Total oil products supplied over the last four weeks has averaged nearly 18.3 million barrels per day, down 7.6% from a year ago. The global recession has significantly reduced demand for oil, lowering the price of oil down from a record $147 a barrel last summer to just above $33 in December.
As demand has plummeted, an inventory glut has built -- even with last week's dropoff. At 368.5 million barrels, U.S. crude oil inventories are above the upper boundary of the average range for this time of year, according to the report.
Stockpiles of gasoline decreased by 4.3 million barrels last week, a much more precipitous drop than the 1.7 million barrels analysts had forecast. Gasoline stockpiles are below the lower limit of the average range.
Demand for gasoline is not as weak as overall oil demand. In the last four weeks, gasoline demand has averaged about 9.1 million barrels per day, a 1.2% dip from the same period last year.
According to the government's supply report, refineries operated at 81.8% of their operable capacity last week, less than the 83.7% run rate analysts were expecting. Refineries turn crude oil into products such as gasoline or distillates.
Distillates, used to make heating oil and diesel fuel, increased by 600,000 barrels, and are above the upper boundary of the average range for this time of year. Analysts were looking for a larger build of 1.3 million barrels in distillates.
Also contributing to supply issues were tensions in oil-rich Nigeria that threatened pipelines. In Nigeria, an OPEC member, a rebel group has been fighting the military over redistribution of the country's oil wealth.
Wall Street contribution: Oil also got a boost from the stock market. All three major indexes rallied about 1% earlier in the day after Treasury Secretary Tim Geithner made encouraging comments about the recovery of the financial system. After the settlement, stocks turned lower.
Bank stocks led the rally following Bank of America's $13.47 billion stock sale, as the financial giant looks to meet the capital requirements of the government's stress test.
U.S. stocks have rallied for the past two months, pulling oil prices higher, with investors generally more optimistic that the economy is in recovery mode.
Gas prices: Prices at the pump rose for the 22nd straight day in a daily survey by motorist group AAA. The price of regular unleaded gas jumped 2 cents to $2.33414 a gallon.
In those 22 days, the average price of a gallon of gas has increased 28.6 cents, or 13.9%. The average price of a gallon of gas is down $1.78, or 43.3%, from the record $4.114 on July 17, 2008.

Features

These Fortune 100 employers have at least 350 openings each. What are they looking for in a new hire? More

It would be the world's second-biggest economy. See how big companies' sales stack up against GDP over the past decade. More