Steady home sales could be positive signal
April sales are a sign to some economists that the worst of the housing downturn may be over.
Photos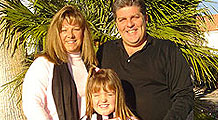 NEW YORK (CNNMoney.com) -- Sales of newly constructed homes were almost flat in April -- but in a sickly housing market, economists saw a few reasons for hope.
The Commerce Department said new home sales ticked up 0.3% last month to a seasonally adjusted annual rate of 352,000. That was from a downwardly revised reading of 351,000 in March.
Analysts were looking for the rate of new home sales to rise to 360,000, according to a consensus estimate of economists compiled by Briefing.com.
"We aren't seeing a huge upswing in market conditions. But we aren't seeing things fall apart again, either," said Mike Larson, real estate and interest rate analyst at Weiss Research, in a research note.
New home sales -- which have plunged as builders struggle to construct homes to compete with drastically cheapened foreclosure properties -- were 34% below the same month a year ago, when they estimate stood at a 533,000 annual rate.
The median sales price of new homes rose to $209,700 in April, up nearly 4% from a revised median home price of $202,200. That was still 14.9% behind the median price of $246,400 the same month a year ago. The average sales price was $254,000, down 1% from a revised $257,100 in March.
Inventory reduced: Drastically reduced prices have lured in enough buyers to start chipping away at the glut of inventory that has been weighing down the market. At the end of April, the seasonally adjusted estimate of new homes for sale was 297,000, or a 10.1 month supply at the current sales rate. In January, there was a revised 12.4 months of supply on the market.
"Inventory levels continued to improve and broke through 300,000 for the first time since 2001," said Adam York, economist at Wachovia, in a research note. "We are encouraged by the relative stability in sales and the continued improvement in inventory levels."
Plunging mortgage rates also served to attract buyers into the market. But as Treasury yields have risen recently, so have mortgage rates. According to a weekly survey from Bankrate.com, the 30-year fixed mortgage rates rose to 5.45% in the week ended Wednesday, up from 5.24% in the prior week.
However, last week's rate was still significantly below the 6.20% of a year ago, and the historically low rates could continue to bring buyers, according to one economist.
"We still think the combination of very low mortgage rates and falling inventory will entice people back into the market in greater numbers over the next few months," said Ian Shepherdson, chief U.S. economist at High Frequency Economics, in a research note.
But he called the April sales rate "a bit disappointing, given the hefty increase in homebuilder sentiment in the past couple of months."
Slow and steady: Going forward, if indeed the worst is over, economists say improvement will be slow and steady.
"Looking back, January may turn out to have been the bottom in new home sales," said Wachovia's York. "We do not expect a major pick-up in the near term, but stability over the summer would not be a surprise."
Even with home inventory levels shrinking and home prices attracting new buyers, "there is no evidence whatsoever of a renewed housing boom -- just a gradual increase in activity in some markets, brought about by lower prices, lower mortgage rates, and tax and builder incentives," said Weiss' Larson.

Features

These Fortune 100 employers have at least 350 openings each. What are they looking for in a new hire? More

It would be the world's second-biggest economy. See how big companies' sales stack up against GDP over the past decade. More