Trio of big banks eye TARP exit
JPMorgan, AmEx and Morgan Stanley announce plans to sell $7.7 billion in stock with the hopes of using money to pay back bailout funds to the government.
Bailout tracker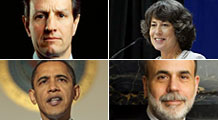 The government is engaged in a far-reaching - and expensive - effort to rescue the economy. Here's how you can keep tabs on the bailouts.
More
NEW YORK (Reuters) -- JPMorgan Chase, American Express and Morgan Stanley all announced plans to issue common stock, hoping to position themselves to quickly repay funds from the government's bank bailout plan.
JPMorgan and American Express revealed plans late Monday to sell $5 billion and $500 million of stock respectively. Morgan Stanley followed that up before Tuesday's opening bell with its own plans to do a $2.2 billion offering.
The JPMorgan offering will be priced by Tuesday morning, a person close to the matter said. The person was granted anonymity because the timing is not public.
The three New York-based companies were among the 19 U.S. lenders to recently undergo the government "stress tests" of their ability to weather a deep recession.
JPMorgan and American Express were among the nine that regulators said did not need more capital. Regulators deemed that Morgan Stanley required $1.8 billion in additional capital.
The Federal Reserve said Monday the government will announce next week which of the 19 will be allowed to repay the government. One condition for repayment is that they are able to raise money in the public equity markets.
JPMorgan (JPM, Fortune 500) took $25 billion from the Treasury Department's Troubled Asset Relief Program, and said it expects to repay the sum this month. It said repayment is in "the best interests of the country and the company."
American Express (AXP, Fortune 500) took $3.4 billion from TARP, and Chief Executive Kenneth Chenault said his company has always viewed TARP as a "temporary" program.
Morgan Stanley (MS, Fortune 500), which received $10 billion, has been equally anxious to return taxpayer funds, according to recent remarks by company executives. The company said Tuesday it expects to redeem the government's preferred stake before the end of June.
Many banks have criticized TARP for its restrictions, including on compensation, and a perception among investors that recipients are desperate for capital.
Jamie Dimon, JPMorgan's chief executive, in April called it a "scarlet letter" for a bank to participate.
The Fed said that to repay aid, banks must show their ability to sell equity, sell long-term debt not backed by the government, foster lending, maintain sufficient capital, meet their funding needs and obligations, and be a source of "strength" to their subsidiaries.
Analysts expect regulators to let some of the nine companies found to need no capital to repay TARP soon.
The companies include JPMorgan, American Express, Bank of New York Mellon Corp, BB&T Corp, Capital One, Goldman Sachs (GS, Fortune 500), State Street Corp and U.S. Bancorp (USB, Fortune 500). MetLife, the ninth company, did not take money from TARP.
Analysts also expect PNC Financial, found to have small capital holes, to soon be eligible to repay the government.
Goldman was expected on Monday to sell up to $1.9 billion of shares in Industrial and Commercial Bank of China . It took $10 billion from TARP.
The 10 banks ordered to plug capital shortfalls have until June 8 to win regulatory approval of their capital plans. Bank of America (BAC, Fortune 500) has said it has plugged close to $26 billion of its $33.9 billion shortfall, while SunTrust on Monday set plans to fill a $2.2 billion hole.

Features

These Fortune 100 employers have at least 350 openings each. What are they looking for in a new hire? More

It would be the world's second-biggest economy. See how big companies' sales stack up against GDP over the past decade. More