States slash jobs despite stimulus $$
Weakening economy forces states to lay off workers even as officials implement stimulus programs designed to create and save jobs.
Map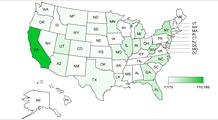 NEW YORK (CNNMoney.com) -- Virginia's Department of Transportation is putting $694.5 million in stimulus funds to work repairing the state's roads and bridges. But that money won't save the jobs of nearly 1,500 of the agency's workers.
Facing a $2.6 billion budget shortfall over the next six years, the department is laying off a thousand full-time staffers over the next 18 months. Another 450 part-time workers were already let go.
States across the nation are laying off workers, even as they deploy billions of dollars of stimulus funds meant to stabilize the economy by creating or saving jobs.
Governors and legislatures are scrambling to close gaping shortfalls in their budgets as the recession decimates tax revenues. Having already cut spending and raised taxes and fees, officials increasingly are eyeing their payrolls as a way to balance their budgets.
Government jobs have long been considered secure, especially since many workers are in unions. Even during recessions, the cuts often aren't as deep.
Not this time, though. The government and non-profit sector led all others in cutting jobs in May for the third month in a row, according to Challenger, Gray & Christmas.
Already, 16 states downsized their staffs in fiscal 2009, which for most ends on June 30, according to a report last week from two state industry groups. Another 17 states are planning reductions for fiscal 2010.
Some 17,000 state workers have lost their jobs and another 98,000 layoffs have been proposed, according to a compilation by the American Federation of State, County and Municipal Employees, a labor union.
These numbers are unprecedented, several experts say.
"When you are looking at a financial crisis as big as this one, they have to look beyond hiring freezes to furloughs and layoffs to address the budget situation," said Leslie Scott, director of the National Association of State Personnel Executives. "We've never seen anything like this to this extent."
Stimulus not saving all jobs
At the same time, state leaders are hoping their share of the $787 billion stimulus package will create or save tens of thousands of jobs. Escalating unemployment is one source of the states' woes since the jobless pay less in income taxes, as well as sales taxes as they cut back on their consumption.
To be sure, the stimulus money is having some impact. The funds are saving some teachers' jobs in states such as California, while creating transportation jobs in places such as Rhode Island.
But it's hard to stem job losses in the midst of a recession, making it all more the for the Obama administration to hit its target of saving or creating 750,000 jobs in 200 days.
Also, since the outlays are targeted for specific needs, they can't rescue all public employees from the unemployment line.
"There are limitations on what stimulus money can be used for," Scott said.
In Virginia, state transportation officials are working to distribute the $694.5 million they've received to repave highways and repair bridges. Some other states are hiring workers for their transportation departments, but not in the Old Dominion.
"We don't have enough work for the staff we have," said Jeffrey Caldwell, an agency spokesman, noting it is also closing rest stops and reducing interstate maintenance to balance its budget.
Certainly, the stimulus funds will create jobs in Virginia, but mainly in the private sector. The state transportation agency doesn't employ construction crews to do the work. It is laying off engineers to try to close its budget hole created by the decline in tax revenue from auto sales and gas purchases.
"There will be a lot of jobs created and preserved for private-sector companies that actually do the work constructing the roadways," Caldwell said. "That money doesn't significantly change our financial picture or staffing mix."
Oregon might lose jobs
In Oregon, the governor and state Legislature are negotiating on a spending plan that could eliminate nearly 1,700 jobs. Officials are looking to slash $2 billion from the 2009-2011 budget.
"When you have to make these kind of budget cuts, there are going to be jobs that are lost," said Geoff Sugerman, communications director for Oregon Speaker of the House Dave Hunt. "If you cut a program, you cut the people who run that program. There's no way around that."
Oregon suffers from the second highest unemployment level in the nation. At 12%, it trails only Michigan.
Gov. Ted Kulongoski has made it a high priority to turn around Oregon's economy, and leaders have passed several measures to create private-sector job in health care, transportation and other sectors. The state is also expecting $3.9 billion in stimulus funds, including $334 million in transportation money that should create or save an estimated 4,700 jobs.
"We have a jobs emergency in Oregon," Kulongoski said in a speech in May. "Your state government, in partnership with the private sector, remains committed to creating jobs during this economic crisis."
But that same month, state legislative leaders unveiled a spending plan that would cut nearly 1,700 jobs in various state agencies. A governor's spokesman said talks with the legislature were continuing, but declined to comment on the layoff proposal.
"That budget reflected some of the hard decisions we as a state will have to make," said Jillian Schoene, Kulongoski's spokeswoman.
Have you applied for a loan modification or refinancing under the Obama administration plan? Did you run into roadbloacks or were you able to get a lower monthly payment and avoid foreclosure? We want to hear your experiences. E-mail your story to realstories@cnnmoney.com and you could be part of an upcoming article. For the CNNMoney.com Comment Policy, click here.

Features

These Fortune 100 employers have at least 350 openings each. What are they looking for in a new hire? More

It would be the world's second-biggest economy. See how big companies' sales stack up against GDP over the past decade. More