Oil rises on Nigeria, stock gains
Futures climb after militants in Africa's largest oil producer attack a Shell platform. Rally on Wall Street raises economic recovery hopes.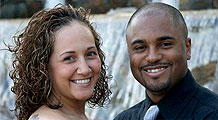 The recent spike in gasoline prices comes at a particularly unfortunate time -- many Americans are still reeling from the economic downturn. Here is how some people have responded to the return of pain at the pump.
NEW YORK (Reuters) -- Oil prices rose nearly 4% Monday, lifted by word of fresh rebel attacks on oil installations in Nigeria and gains in stock markets.
Nigeria's main militant group said its fighters had attacked an oil facility belonging to Royal Dutch Shell in the Niger Delta on Monday, days after President Umaru Yar'Adua proposed an amnesty.
U.S. crude rose $2.33, more than 3%, to settle at $71.49 a barrel Monday.
Further support came as U.S. stocks opened higher on signs of life in the global economy, which kept investors optimistic over the prospect of a recovery.
"Equities are a little bit stronger and that has been helping the market," said Peter Beutel, president of Cameron Hanover in New Canaan, Conn., adding that buying by funds had been strong.
"Anytime that we see the Dow Jones higher, the funds take that as a sign that the economy is going to strengthen and that oil demand will strengthen along with that," he added.
Signs of a turnaround in the global economy have helped lift crude prices from below $40 a barrel in February. The economic crisis has battered global fuel demand, knocking crude off record highs set above $147 a barrel last year.
The Energy Information Administration revised up April U.S. oil demand by 1.18% from its early estimate of 18.255 million barrels per day, suggesting a potential turnaround in the economy.
The EIA revision came after a bullish International Energy Agency mid-term oil demand forecast Monday, which said that there was a chance of an extended contraction and that the threat of a supply crunch had only receded, not gone away.
Based on a higher economic growth scenario, the IEA predicted Monday product demand would grow by 0.6%, or 540,000 bpd on average, between 2008 and 2014, taking demand from 85.8 million bpd to 89 million bpd.
No. 2 oil consumer China unexpectedly increased gasoline and diesel prices Monday by nearly 9% and 10% respectively.
Nigeria: Crude was bolstered by militant activity in Nigeria as fighters forced production outages in the West African country.
The Movement for the Emancipation of the Niger Delta (MEND) said its fighters struck the Shell Forcados platform in the Delta state.
There was no immediate independent confirmation but Shell said it shut in some oil production at its western operations in the Delta while it investigated reports of attacks.
"The Nigerian situation is the main factor in the market," said Mike Wittner, global head of oil research at Societe Generale. "The attacks appear to be removing some oil production capacity from the market."
On Friday, four militant Nigerian factions said they would accept in principle an amnesty offer from President Umaru Yar'Adua, raising hopes that Africa's top oil producer would halt a battle with rebels.
Pipeline bombings, attacks on oil and gas installations and kidnapping of industry workers over the past three years have prevented Nigeria from pumping much above two-thirds of its installed oil output capacity of 3 million barrels per day (bpd).
OPEC: Qatar's oil minister Abdullah al Attiyah said Monday that he does not see any need for OPEC to increase output when it meets in September. OPEC has already targeted cutting 4.2 million barrels from September levels to help support prices.
Algerian Energy and Mines Minister Chakib Khelil said Monday that an increase in OPEC oil production was hard to envisage, despite rising crude prices.
Oil analysts say OPEC can help tighten the oil market significantly later this year if it continues to implement production cuts. Iran's oil minister said Monday that it was producing in line with its OPEC output target.
The market awaits U.S. oil inventory data to be released Wednesday by the Energy Information Administration. Analysts expect a 1.6-million-barrel rise in crude stocks, a 1.5-million-barrel build in distillate stocks and a 2-million-barrel rise in gasoline stocks, according to a preliminary Reuters poll.
Gasoline: The national average for a gallon of regular gas fell overnight to $2.639, down 0.4 cent from $2.643 the day before, according to a survey conducted for motorist group AAA.
Gas prices have fallen for eight days in a row after a sharp runup in May and June.

Features

These Fortune 100 employers have at least 350 openings each. What are they looking for in a new hire? More

It would be the world's second-biggest economy. See how big companies' sales stack up against GDP over the past decade. More