Don't pay a price for your life crisis
Rough patches happen to everyone. Just make sure your finances don't get tripped up, too.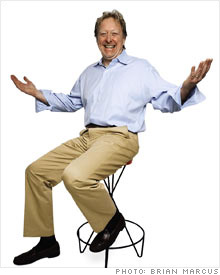 (Money Magazine) -- My family has learned the hard way why you can't ignore finances while dealing with the emotions that surround a life-changing event like job loss or the death of a loved one.
When my dad passed away in late 2007, we figured the money stuff could wait while we adapted. But then his bank stocks started tumbling, eventually dropping 90%. And 18 months later, we're still working to recover from those losses instead of benefiting fully from the estate Dad built.
Such mistakes are fairly common among boomers. A recent AARP Financial survey found that 63% of folks past age 50 have lived through a major trauma - job loss, divorce, a spouse's death. The most common feeling when it comes to handling the financial fallout: overwhelmed.
"Life crises are the perfect storms of personal finance, where the need for consequential and frequently urgent financial decisions meets an emotional hurricane," says Richard Hisey, president of AARP Financial.
How can you make sure you're not wiped out when the storm hits? These strategies should help.
Do (only) what you must
Acting too quickly at an emotional time can lead to devastating mistakes, like mishandling a divorce, insurance, or a severance payout. But as my family has learned, postponing key decisions can be costly too. The challenge is to identify what needs immediate attention and buy time to handle the rest.
For instance, if you lose your job, you need to apply for unemployment benefits right away and plan how you'll cover your bills; if your spouse passes away, you need to file a life insurance claim and transfer joint accounts to your name only. But put any lump-sum payouts in a money fund for safekeeping; you can decide how to spend or invest that money later, when your head is clearer.
Find the right support
Your family and friends want to help, and that's great. But good intentions don't make them qualified to provide the expertise you need. Even a onetime consultation with a pro can be helpful, laying out options for managing income and assets and helping you form a plan for how to proceed.
For instance, we knew that Dad's portfolio, consisting largely of bank shares, needed some work. A good adviser would have helped clarify our vague plans to diversify and urged us not to delay. You can get referrals from a professional group, like napfa.org for a financial planner or aaepa.com for an estate attorney.
Give yourself a break
Even if you do trip up, remember you can recover, at least in part, from most financial missteps with time. In the past few months Dad's bank stocks have quadrupled from their lows. And we're now shifting his assets into bonds and high-dividend stocks - determined not to make the same mistake twice.
Contributing columnist Dan Kadlec is co-author of "With Purpose: Going From Success to Significance in Work and Life" and "The Power Years," a guide for baby boomers.

Send feedback to Money Magazine
Features

These Fortune 100 employers have at least 350 openings each. What are they looking for in a new hire? More

It would be the world's second-biggest economy. See how big companies' sales stack up against GDP over the past decade. More