Jobless rate down for first time in a year
The economy shed 247,000 jobs in July, less than expected and lowest total of losses since last August. Unemployment rate inches down to 9.4%.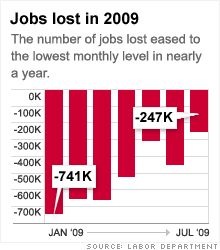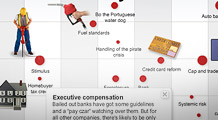 200 days in, the President is going for broke. Click for analysis of where he's succeeding - and where he's not.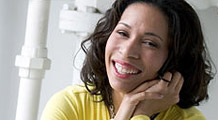 These CNNMoney.com readers have gone to great lengths to land a job - with mixed results.
NEW YORK (CNNMoney.com) -- The long-battered U.S. job market showed some signs of improvement in July as employers cut far fewer jobs from payrolls and the unemployment rate fell for the first time in more than a year, according to a government report Friday.
The Labor Department reported a net loss of 247,000 jobs in July, the fewest job losses since August 2008. Economists surveyed by Briefing.com had forecast a loss of 325,000.
The job loss in June was also revised lower -- to 443,000 job losses from 467,000.
The unemployment rate fell to 9.4% from 9.5% in June, the first decline in that closely watched reading since April of 2008. Economists had expected unemployment to rise to 9.6%.
The unemployment rate fell even as employers continued to cut jobs because the Labor Department estimated there were 237,000 fewer people it counted as unemployed.
That decline in the labor force can be due to discouraged job seekers who have stopped looking for work, people who now consider themselves retired or those have gone back to school rather than applying for jobs.
"You can't lose jobs and have the unemployment rate decline unless folks are opting out," said Tig Gilliam, CEO of Adecco Group North America, a unit of the world's largest employment staffing firm. "That means unemployment is going to go back up again."
There were other signs of improvement in the report, however.
The average hourly work week edged up to 33.1 hours, from a record low of 33.0 hours in June. The number of workers who wanted full-time work but could only find part-time jobs fell by 191,000, or 2%. That suggests that many workers who had their hours cut or were given unpaid days off in the current downturn are going back to full-time status.
But there was also plenty of bad news to be found in the report.
The number of people unemployed for more than six months continued to rise, reaching nearly 5 million people, a record high. The average time that an unemployed person has been out of work reached 25.1 weeks, the highest reading in the 61 years that this has been tracked by the Labor Department.
The Labor Department also said that one reason for the declining number of job losses was because cuts had been so deep leading up to July that there were fewer workers to lay off during the seasonal shutdown that happens in some factories, such as those in the auto industry.
Since the start of 2008, 6.7 million jobs have been lost in the U.S. Several economists said that while the report confirms other economic readings suggesting that the recession may be ending, it's too soon to predict a sharp gain in jobs in the near term.
"The dawn of an economic recovery is here," said Sung Won Sohn, a professor of economics at Cal State University Channel Islands. "The economy is in the process of bottoming, but the job market will lag behind. Businesses, which engaged in preemptive layoffs earlier, are not about to start hiring people."
Mark Vitner, senior economist at Wells Fargo, agreed that job losses are likely to continue into early next year, with unemployment eventually rising to about 10% to 10.5%. He said the fact that unusual extended shutdowns in auto plants distorted these seasonally-adjusted numbers.
"We're not ready to break out the champagne," he said. "There's less improvement than meets the eye."
Gilliam also doesn't expect to see overall job gains until late this year at the earliest.
"The glass is both half empty and half full in this report," said Gilliam.
But Robert Brusca of FAO Economics said he believes there is more strength in the job market than many people are willing to acknowledge. He said that the government may even report an overall payroll gain for August next month.
"There is nothing about these numbers that suggest it's a fluke," he said.
More jobs were lost in July in the manufacturing and construction sectors as well as in the retail and business and professional services industries . But there were net gains in the education, health care and leisure hospitality sectors. Government employers also added jobs.
Average hourly wages edged up 3 cents an hour, to $18.56. That increase, combined with a slightly longer work week, lifted average weekly wages by 0.5%.
But that still left weekly wages only 1% higher than they were a year ago, little better than the 0.9% rise posted for June. That increase was which the smallest increase in paychecks in 23 years.
Talkback: Are you encouraged by the latest jobs report? Share your comments below.

Features

These Fortune 100 employers have at least 350 openings each. What are they looking for in a new hire? More

It would be the world's second-biggest economy. See how big companies' sales stack up against GDP over the past decade. More