AIG's new boss: $3 million salary ... plus
Robert Benmosche will receive $7 million in salary and stock and is eligible for $3.5 million in annual bonuses. Obama's pay czar was consulted.
Bailout tracker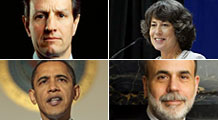 The government is engaged in a far-reaching - and expensive - effort to rescue the economy. Here's how you can keep tabs on the bailouts.
More
NEW YORK (CNNMoney.com) -- AIG's new boss will make an annual salary of $3 million and receive bonuses and stock options worth millions more, according to a company filing on Monday.
Chief Executive Robert Benmosche, who took over the bailed out insurer's reins on Aug. 10, will take home $3 million in cash and $4 million in stock options.
According to an AIG spokeswoman, Benmosche will receive his "stock salary" in equally divisible, bimonthly payments of common shares. Under the terms of his pay deal, he can't sell those shares until August 2014.
The new AIG CEO will also be eligible for $3.5 million annual performance bonuses. The bonus will be prorated for 2009. He is not eligible for any kind of severance package.
In the Securities and Exchange Commission filing, AIG also said that Kenneth Feinberg, the Obama administration's pay czar, "expressed approval in principle" for Benmosche's compensation package. Feinberg still must formally approve the new CEO's compensation.
Feinberg was not available for immediate comment.
AIG (AIG, Fortune 500) was one of seven TARP bailout recipients required to submit proposed employment contracts for their 25 highest-paid employees. The others were Chrysler, Citigroup (C, Fortune 500), Chrysler Financial, Bank of America (BAC, Fortune 500), General Motors and GMAC.
AIG has received a larger federal bailout -- $182 billion -- than any other company. Executive pay has caused a series of political firestorms.
The insurer is required to get its 2009 compensation plan approved by Feinberg. In addition, it still has nearly $240 million in 2008 bonuses to pay out. A $2.4 million payment scheduled for July was held up by Feinberg's office, pending further review.
Controversy over the bonuses erupted in March after it was revealed that employees of the company's crippled Financial Products division received $165 million in retention bonuses. That unit wrote the complex derivatives that nearly brought the whole company down.
After the controversy, then-CEO Edward Liddy opted to receive a nominal $1 a year salary and gave up a bonus. Liddy retired on Aug. 7.
Rep. Elijah Cummings, D-Md., who has been outspoken about his criticism of AIG's bonus payments, has said AIG should be led by an executive paid a competitive salary who can help ensure the company pays back its sizeable debt to taxpayers.
When Benmosche's hiring was announced earlier in the month, Cummings said the new CEO will be held to a high standard.
"I caution him that my colleagues and I will be closely watching his progress," said Cummings in a statement on Aug. 3.
Prior to joining AIG, Benmosche was the CEO of MetLife (MET, Fortune 500) until he retired in 2006. He oversaw MetLife's transition from a private to a public company, which experts say gave him the experience necessary to lead AIG's transition from the world's biggest insurer to a much smaller domestic life insurance company.

Features

These Fortune 100 employers have at least 350 openings each. What are they looking for in a new hire? More

It would be the world's second-biggest economy. See how big companies' sales stack up against GDP over the past decade. More