State unemployment shows improvement
A government report shows 17 states and Washington, D.C., recorded month-over-month decreases in July, more than three times the number in June.
Map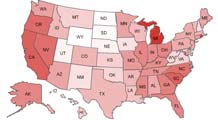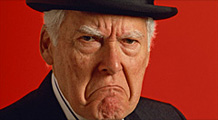 You've got a job. Good. Now keep yourself off a potential-layoff list by avoiding bad office behavior. 15 horror stories straight from the trenches.
NEW YORK (CNNMoney.com) -- The number of states posting a decrease in the unemployment rate in July more than tripled from the previous month, according to a government report released Friday.
The Labor Department said 17 states and the District of Columbia reported a drop in unemployment rates in July, compared with 5 states in June.
Increases in unemployment rates were reported in 26 states, and 7 states posted no change from the previous month.
While the report showed improvement for the battered labor market, the changes in unemployment rates were very modest across the board: overall, unemployment rates didn't change much from June to July.
Only two states, Vermont, at 0.5 percentage point, and Minnesota, at 0.3 point, showed what were considered significant decreases in unemployment rates.
California lost the most jobs in July, shedding 35, 800 jobs, due to its large size. North Carolina lost 26,400 jobs, Florida lost 25,200 jobs and Illinois shed 13,000 jobs.
Compared to the same time last year, all 50 states and the District of Columbia posted higher unemployment rates, with 15 states having double-digit unemployment percentages.
Michigan had the highest unemployment rate at 15%, but that was down 0.2 percentage point from June. Michigan has been especially hard hit by the collapse of the U.S. auto industry and the housing meltdown.
Rhode Island posted the second highest unemployment rate at 12.7% and Nevada rounded out the top three with a 12.5% rate.
Four states -- California at 11.9%, Georgia at 10.3%, Nevada at 12.5%, and Rhode Island at 12.7% -- posted record high jobless rates.
The national unemployment rate fell to 9.4% from 9.5% in June, the first decline in that closely watched reading since April 2008.

Features

These Fortune 100 employers have at least 350 openings each. What are they looking for in a new hire? More

It would be the world's second-biggest economy. See how big companies' sales stack up against GDP over the past decade. More