Win at the credit scoring game
To get the best deal on a loan, you need some new strategies to bump up your score - and keep it there.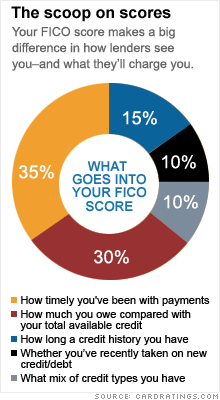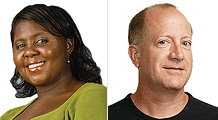 What Money readers are asking about their credit scores.
(Money Magazine) -- Borrowing money today requires impressing an increasingly hard-to-please crowd. With creditors of all kinds more cautious than ever, you need an A+ application to land the best terms -- and that means an A+ credit score, the number lenders use to judge your risk of default.
The most commonly used credit scoring system, called FICO, rates people from a very risky 300 to a pristine 850. And right now we're in the middle of a credit score crunch: "You need a 750 or better today to have the same treatment you got with a 700 two years ago," says John Ulzheimer, president of consumer education at Credit.com.
John D'Onofrio, CEO of Autoloandaily.com, seconds that: "Two years ago a 680 was enough to get a great car loan rate. Today it's often the minimum to qualify at all."
Think you're still in the clear? Don't be so sure. Lenders have been making changes that could cause your score to slip from excellent to average. Improve and protect your number with these strategies:
Learn your score. You have three FICO scores, based on your credit reports at the three credit bureaus: Experian, Equifax, and TransUnion. The numbers tend to be in the same ballpark, so pony up $16 to get one representative score at myfico.com. You can get an estimate free at Creditkarma.com. But the FICO score gives you a better sense of what lenders see.
Scout for mistakes. Your scores are only as good as the information they're based on. And a third of people who've pulled their reports have found errors, according to a Zogby poll. That's good reason to read your report.
When you buy your FICO score, you'll get a copy of the report it was based on. Get gratis histories from the other bureaus via annualcreditreport.com (you're entitled to one free from each bureau every 12 months).
Spot an error? Request a correction, following the instructions on the bureau's website. Let's say the size of a credit line was misstated or an account was mistakenly marked delinquent. Getting the error fixed could raise your score as much as 200 points, says Ulzheimer, who has also worked for Equifax and FICO.
Never, ever be late. As you'll see in the pie chart on the right, the biggest chunk of your credit score comes from your payment history. Just one late payment can shave 100 points off a 750-plus credit score, says Ulzheimer. Lenders can't tattle on you to the bureaus until you're 30 days past due, adds credit expert Gerri Detweiler. But don't risk it. For all your bills, enter recurring due-date reminders on your computer calendar.
Missed a payment? Get back on track within the next 30 days, and you should "get back the lion's share" of points lost, Ulzheimer says. More than 90 days late? The damage can stick for years. If it was a one-off lapse, call your issuer and plea for a good-will adjustment to your credit report. (It's a long shot.)
Remember the magic 20%. The second-biggest factor in your score is how much you owe vs. how much credit has been extended to you. The part of this that's easiest to finesse is your credit card utilization rate, or your total card balances compared with your total credit limits, as well as each card's balance relative to its limit.
Example: If you've charged $5,000 on cards and have $50,000 in credit, your rate is 10%. For the best score today, 10% is ideal, but you can probably creep up to 20% and keep a high rating.
Unfortunately, with banks lowering credit limits and canceling unused cards, it's harder to maintain such a low percentage. In the previous example, if your available credit is cut to $20,000, your rate shoots to 25%. That could sink your score by as much as 50 points, says Ulzheimer. The lesson: Know your limits, watch for changes, and stay under 20% on each card and in total (0% if you'll be applying for a loan soon).
Already above 20%? Paying down debt is the obvious way to lower your utilization rate, but another strategy is to apply for an additional credit card to increase your overall credit limit. That may cause you to lose a few points in the short term -- so don't do it if you're about to apply for a mortgage -- but it should pay off in the long run.
Keep oldest cards in play. As noted, credit issuers these days are eagerly canceling cards that are not in use. Besides reducing your limit and increasing your utilization ratio, having an account closed can hurt you in another way, especially if it's among your older ones.
See, 15% of your score rides on the length of your credit history. The longer you ably manage revolving debt, the better you look. So don't cancel your oldest cards. And don't let them get canceled on you: Move a recurring charge to each so they stay active.
Already ditched or been ditched? A new card (see previous) can help with your utilization rate, but there's little you can do to help the "history" component of your score, except to keep other old accounts in use.
Accept fate on the rest. There are other factors involved in your score, but they're not so easy to manipulate. For example, 10% is based on how well you manage a mix of credit types, such as mortgages, car loans, and credit cards. But you don't want to go out and, say, finance a car just for a score boost; besides, you can easily get 750-plus with just a few well-tended credit cards.
Along the same lines, 10% is based on "new credit," but the effects of a new application can be positive or negative, depending on your history.
In other words, if you want to be among the crème de la credit crème, accept what you can't change, and focus on what you can.

Send feedback to Money Magazine
Features

These Fortune 100 employers have at least 350 openings each. What are they looking for in a new hire? More

It would be the world's second-biggest economy. See how big companies' sales stack up against GDP over the past decade. More