Citi boosts mortgage help as delinquencies rise
Some 108,000 Citi customers avoid foreclosure in second quarter, up 30% from previous period. But delinquencies are up too.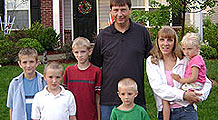 Homeowners in trouble are having mixed results applying for President Obama's foreclosure prevention plan. CNNMoney.com readers tell us their tribulations and triumphs trying to get their loans modified or refinanced.
NEW YORK (CNNMoney.com) -- The good news is that Citigroup helped 108,000 people avoid foreclosure during the second quarter, a nearly 30% increase from the previous period.
The bad news is that the number of its borrowers at least 90 days behind in payments surged to 4.7%, up from 3.9% in the first quarter.
Still, CitiMortgage CEO Sanjiv Das feels the bank's ramped-up foreclosure prevention efforts can help stem the number of its borrowers falling behind.
"You keep plugging away at the early stages of delinquency and that's how you slow down the number of foreclosures," Das said in an interview.
Citigroup (C, Fortune 500) reported Tuesday that for every completed foreclosure, 12 at-risk borrowers get to stay in their homes. Six months ago, the ratio was 1 to 6.
The bank's loss mitigation initiatives include repayment plans, payment extensions, forbearance, and loan modifications.
When borrowers can't afford to stay in their homes, Citi also helps them avoid foreclosure through short sales -- in which a homeowner sells the property for less than what's owed -- and deeds-in-lieu-of-foreclosure, in which a homeowner signs over the house to the bank. The 1 to 12 ratio that it reported Tuesday does not include short sales or deeds-in-lieu.
Total modifications decreased by 5% during the quarter as the bank ramped up its implementation of the Obama administration's loan modification program. The president's program, which gives banks incentive payments to modify loans, requires that borrowers be put into a three-month trial period before the modification is finalized. Citi also has its own modification programs.
Tuesday's report, the 7th issued by Citi, is the first to include the Obama modification program, which began in April.
The bank, one-third of which is owned by U.S. taxpayers, said the redefault rates for modified loans continued to decline. Only 6.54% of loans adjusted in the first quarter were delinquent after 30 days, compared to 7.67% of loans modified in the fourth quarter and 10.86% of those adjusted in the third quarter.
More troubling, however, is the fact that foreclosures and delinquencies continue to rise. The number of foreclosures in process for Citi-serviced loans increased about 10% from the first quarter, though foreclosures initiated dropped by 14%. Completed foreclosures rose by 5%.
The rising unemployment rate is keeping foreclosure and delinquency rates on the upswing, troubling housing counselors and policymakers.
Like other banks, Citi is under pressure to increase aid to its troubled borrowers.
To some extent, the bank is under even more scrutiny since it has received more support from the federal government than other financial institutions. Last month, Citi converted $25 billion of preferred shares the government acquired into common shares. The government funneled a total of $45 billion into the bank.
As for putting people into trial modifications under the Obama plan, Citi came in the middle of the pack. It placed 15% of its eligible delinquent loans into trial modifications, according to a Treasury Department report issued earlier this month.
Citi trails competitors such as JPMorgan Chase (JPM, Fortune 500) and GMAC Mortgage, each of which placed 20% of their troubled clients in trial modifications. But it led rivals such as Wells Fargo (WFC, Fortune 500) and Bank of America (BAC, Fortune 500), which assisted 6% and 4% of borrowers, respectively.
Das said the bank has picked up the pace of putting borrowers into the Obama plan. The number now exceeds 20%.
Citi uses a wide definition of helping borrowers avoid foreclosure. The bulk of its efforts involve modifications and extensions, which tack on late payments to the end of the mortgage.
Going forward, modifications will make up the bulk of the bank's foreclosure prevention efforts, Das said. Extensions will be offered to those who don't qualify for a modification.

Features

These Fortune 100 employers have at least 350 openings each. What are they looking for in a new hire? More

It would be the world's second-biggest economy. See how big companies' sales stack up against GDP over the past decade. More