Gold rushes above $1,000 mark
Concerns about inflation and dollar send safe-haven metal soaring to highest level since February.
Photos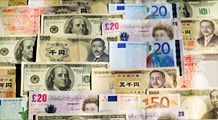 NEW YORK (CNNMoney.com) -- Gold prices surged past the $1,000-an-ounce mark Tuesday amid investor concerns about inflation and the weakness of the dollar.
The December contract on the New York Mercantile Exchange rose as high as $1,009.70, its highest level since February, before easing back to $1,006.40, up $9.70.
As the economic outlook remains bleak, gold has benefited. It's considered a safe-haven because precious metals tend to retain their value in times of economic stress.
Gold received an extra boost after a United Nations panel's Monday report criticized the U.S. dollar's position as the global reserve currency, said Mark Hansen, an analyst at CPM Group.
Tuesday's prices crossed an important threshold, but gold has been on the rise for months. Investors consider it a hedge against inflation, an attractive quality amid a swelling budget deficit and increased government spending.
"The safe-haven factor is very important," Hansen said. "The [gold] market hasn't fallen off like people expected it to -- like other markets did."
Gold's one-grand history: Gold soared above the $1,000 mark once in February, when investors worried that big banks such as Citigroup (C, Fortune 500) might need to be nationalized.
Before February of this year, the last time gold traded at such high levels was in March 2008 -- surging above $1,000 for the first time in history amid severely volatile financial markets. Gold hit a record high of about $1,014 in as the Federal Reserve and JPMorgan Chase (JPM, Fortune 500) boosted Bear Stearns, which was on the verge of collapsing.
But demand failed to hold prices above the psychological $1,000 mark, and gold tumbled to $720 an ounce in October as commodities markets slipped and the dollar rallied. Prices bottomed in November as the financial system began to collapse, and gold has risen choppily since then.
Outlook: CPM's Hansen said he expects gold prices will firm around the $1,000 mark. Within the next 1-2 months, he said, gold could rise as high as $1,100 per ounce. If Hansen's prediction is right, that would be an all-time record before inflation.
But in real dollars, gold is still well below its inflation-adjusted highs. Prices rose to $825.50 per ounce on Jan. 21, 1980, which is $2,186.50 in today's dollars, according to the Minneapolis Fed Calculator.
"If the gold price cements itself above $1,000, people will be encouraged to buy," Hansen said. "Before, investors might have been concerned prices were too high. A lot more players could be participating in the market soon."

Features

These Fortune 100 employers have at least 350 openings each. What are they looking for in a new hire? More

It would be the world's second-biggest economy. See how big companies' sales stack up against GDP over the past decade. More