Gold hits record high
The precious metal, considered a safe haven, surges above $1,000 as the dollar plunged to a one-year low.
Photos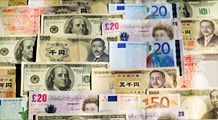 NEW YORK (CNNMoney.com) -- Gold prices settled at a new record high of $1,006.40 on Friday, rallying ahead of the $1,000-an-ounce mark for the third time this week.
Gold for December delivery rose $9.60 Friday and settled ahead of the previous record high of $1,003.20 that was posted March 18, 2008.
Much of the gains this week have been driven by the U.S. dollar, which has fallen out of favor.
The dollar index, which tracks the greenback against the euro, yen and four other currencies, hit a one-year low this week, hitting 76.511 on Friday.
"This is new significant level for the dollar, said Kathy Lien, director of currency research for Global Forex Trading. "The dollar hasn't been this weak since September 2008."
In a jittery economy, commodities priced in dollars, such as gold, are perceived as "safe" investments and typically gain ground when the greenback wanes.
The dollar has declined against the yen for the fifth straight week and is at its lowest level against the euro since December 2008, according to Global Forex Trading.
"Gold prices have been holding up better now than in previous occasions when they tried to rally high. Many [investors] were waiting for the $1,000-mark to be broken," said Carlos Sanchez, a precious metals analyst at CPM Group. "The dollar has been weakening so that's been a supportive factor."
Gold will hold. Analysts think gold will continue its upward momentum, at least for the next few months. CPM's Sanchez said he expects prices will hold above $1,000 mark as the year ends, even if the dollar rallies.
"You may see the dollar recover somewhat and put downward pressure on gold prices. But even if there's a pullback, gold will go back up the last 2-3 months this year," Sanchez said.
And if the dollar is headed lower, as Lien anticipates, gold prices could remain strong even longer.
"There will be relief rallies along the way, but I expect a 2% depreciation of the dollar against major currencies" over the next six months, Lien said.
A grand history: Before settling at $1,000.70 on Sept. 8, gold neared the $1,000-mark in late February when investors feared that Citigroup (C, Fortune 500) and Bank of America (BAC, Fortune 500) might need to be nationalized.
The last time the metal surged above $1,000 in a volatile economy was in March 2008, when it hit a record high of $1,014 when Bear Stearns was on the verge of collapsing.
But gold prices fell to $720 an ounce last October when the dollar rallied, and hit their lowest point in November before beginning a choppy climb.

Features

These Fortune 100 employers have at least 350 openings each. What are they looking for in a new hire? More

It would be the world's second-biggest economy. See how big companies' sales stack up against GDP over the past decade. More