For BofA, the Merrill woes never end
Congress wants more details about the Merrill merger, but the bank has refused to budge. Yet as more legal headaches mount, Wall Street doesn't seem worried.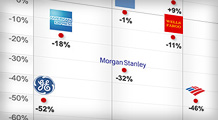 Key financial firms received a wide range of assistance during the past year. But scroll over their stocks and you'll find few winners – and plenty of losers.
More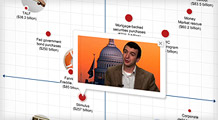 The collapse of Lehman led to a deeper recession and a litany of government programs to try to end the pain. We rate just how bold and effective the plans have been so far.
NEW YORK (CNNMoney.com) -- Executives from Bank of America headed to Capitol Hill Tuesday to meet with a key lawmaker after failing to provide more details on last year's purchase of Merrill Lynch to Congress.
Bank of America (BAC, Fortune 500) was expected to submit key documents related to the merger a day earlier to Rep. Edolphus Towns, D-N.Y., who has been leading an ongoing Congressional probe into the merger as the chairman of the House Committee on Oversight and Government Reform.
But the Charlotte, N.C.-based lender missed the deadline of noon Monday, according to a spokeswoman for Towns.
Tuesday's meeting is the latest instance of government scrutiny of the controversial deal, which was struck during the height of the banking panic last fall.
The Securities and Exchange Commission ramped up its plans to prosecute the firm this week after a federal judge recently rejected a $33 million settlement it had struck with Bank of America for allegedly misleading investors about bonuses paid to Merrill employees.
And New York Attorney General Andrew Cuomo has been moving quickly in his quest to bring charges against BofA and possibly company executives.
You would think that such high-profile cases would be a significant distraction to the bank and a concern for investors. But Wall Street has largely overlooked Bank of America's latest woes.
Executives in hot water, but investors don't care
Since striking its agreement with the SEC over Merrill bonuses in early August, BofA's stock has gained 23%.
Analysts say that's because the Merrill saga is secondary to the underlying health of the firm.
"Investors are looking at core earnings power," said Whitney Young, a senior research associate who tracks Bank of America for Raymond James. "All these things that are going on are really irrelevant to that."
While BofA is expected to endure more losses in its credit card business, the bank continues to benefit from a booming mortgage business and tidy profit margins on new loans, analysts said.
At the same time, the finger-pointing in Washington hasn't appeared to cause customers to flee the bank.
"I don't think that is really affecting the brand," said Stuart Plesser, senior bank equity analyst with Standard & Poor's. "I don't think customers are going in there saying they don't want to do business."
If anything, the drama playing out in Washington is more of a headache for Bank of America CEO Ken Lewis and other top executives at the firm than for shareholders.
Lawmakers and regulators have tried to strong-arm the company into disclosing more information on the merger, going so far as forcing Lewis to testify before Congress on the matter earlier this year.
Last week, Cuomo's office issued subpoenas to five Bank of America board members last Wednesday for details on the Merrill merger.
In several instances, however, the company has been reluctant to provide such specifics, suggesting that those details involved discussions with company lawyers and are protected by the attorney-client privilege.
BofA is believed to be stonewalling on providing some details out of fear that revealing that the information could impact other investigations now pending against the company, including the one led by Cuomo's office. Formal charges have not yet been brought against the bank or its executives by his office.
Court battle with SEC looms
New revelations could also bolster the case now being brought against BofA by the SEC, which accused the firm of misleading investors on plans to pay bonuses to Merrill employees in fiscal year 2008. Both parties are due to go to trial early next year after the judge struck down the proposed settlement.
BofA has maintained that it complied with all legal requirements in its proxy statement. A spokesman for the bank said Tuesday that the company planned to vigorously defend that position.
One of BofA's strongest defenses in that case has been that it relied on the advice of its attorneys when it drafted its proxy statement. Any information publicly disclosed to lawmakers about the Merrill deal would provide regulators with new ammunition and even the opportunity to bring new charges against the firm.
Hoping to alleviate some of the scrutiny the company is now facing, BofA America announced Monday it had terminated the asset-guarantee program it struck with the U.S. government earlier this year to insulate the firm from the toxic assets it acquired from Merrill. The bank agreed to pay the government $425 million to end the deal.
Last January, the government agreed to guarantee $118 billion in assets to help BofA digest the Merrill deal, but had never officially finalized the program with regulators.

Features

These Fortune 100 employers have at least 350 openings each. What are they looking for in a new hire? More

It would be the world's second-biggest economy. See how big companies' sales stack up against GDP over the past decade. More