The right way to unretire
Has a portfolio swoon put a crimp in your comfortable lifestyle? Maybe it's time to get a job. Try these techniques to help you land one that works for you.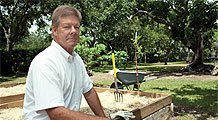 These three retirees are heading back to the workforce.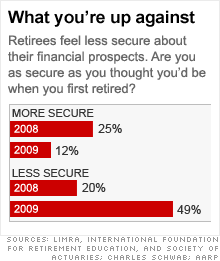 jobs by

Find a Job
(Money Magazine) -- Tom Wogan loves working with his hands, especially building fishing rods and restoring World War II Army knives. So when he retired in June 2006 at age 60 from his $110,000-a-year job as a shift manager at the Florida City nuclear power plant near his home in Palmetto Bay, Fla., he looked forward to spending carefree days puttering around his garage working on his hobbies. With a retirement portfolio worth $1.1 million, Wogan thought he was all set.
Then the bottom fell out of the stock market. Wogan's cool million plummeted 36% in a matter of months; since then, as he's tapped savings to meet living expenses, his portfolio has dropped further and is now worth just $630,000. That's hardly enough to last Wogan and his wife, Pamela, 55, into ripe old age -- especially since her job as a graphic designer pays only $32,000 a year and the Wogans still pay a mortgage and aren't done with college tuition for three of their four children yet.
Tom found a consulting gig last year to supplement their income, but the position ended when the economy soured. So today, at age 63, he is searching for a full-time job for the first time in nearly 40 years. "I don't usually worry about much, but over the past few months, I've had a very anxious feeling," he says.
About 9.5 million Americans understand what Wogan is going through: That's the estimated number of retirees who are considering at least a partial return to the workforce because of the economic downturn, according to a recent study by Charles Schwab.
In fact, the Employee Benefit Research Institute reports, only 20% of retirees now feel very confident they have enough money to live comfortably throughout their retirement, down from 41% in 2007.
But while unretirement may seem like the solution, landing a job isn't easy for anyone these days, let alone older workers. Only about a quarter of employees 55 and older who were laid off during the past year have found jobs vs. 71% of those 25 to 34, CareerBuilder.com reports. Add a gap on your résumé to outdated skills and business contacts, and the challenge looks daunting indeed.
Daunting, yes, but definitely doable, experts say -- if you know how to leverage your best assets: decades of experience, maturity, and a lifetime of contacts. The trick is making all those years in the business be seen as an advantage rather than a liability.
"It won't be a piece of cake," says Joan Cirillo of Operation A.B.L.E., a job-training organization for older workers in Boston. "It requires getting savvy about effective job-search techniques, networking, and assessing the skills you bring to the table. But it can be done -- we see older workers finding work all the time."
The following strategies will help ensure that you're one of the successful ones.
Look beyond your field
Competing against younger job hunters who don't have a big hole in their résumé often requires repositioning yourself in the market. Your previous title and accomplishments matter less than the specific abilities and knowledge you can offer an employer.
The goal of repositioning is to broaden the types of jobs you can go after and the companies and industries that might be interested in you. The wider you cast your net, the likelier you are to land something worthwhile.
Start with the following exercise, suggests Martin Kartin, who runs a boutique executive search firm in New York City. Define your ideal job without naming an industry, a company, or even a job title -- just write down the tasks you would perform given the expertise you have developed over the years.
So instead of saying you want to be an "advertising executive," for example, make a list of what you would actually do in that job: Think creatively, write well, organize meetings, present ideas to a group, manage staff, oversee budgets, meet tight deadlines, and so forth. You'll probably find that you bring more to the table for a greater variety of positions than you had imagined.
Next, make a list of industries, companies, and jobs where you could use those talents. Don't confine yourself to online searches, since employers posting on popular jobs boards are often swamped with applicants. Also check with your state labor department for lists of industries that show hiring growth and stay away from the ones that are shedding jobs.
For example, the health-care industry is still growing robustly. Thus a finance executive who spent most of his career in the now-struggling retail industry might find ways to apply what he knows to a hospital or medical practice. A designer from the moribund auto industry might fit in well at a sporting goods company. Nonprofits, another growth area, are often welcoming to executives with corporate experience. (You may find ideas and leads about nonprofit opportunities at bridgestar.org.)
Once you've assembled a list of possibilities, do some research on the companies or organizations that you're most interested in. Then use that information to think through how your background and expertise would fit with their operations. When you look for work outside your field, the onus is on you to connect the dots for prospective employers.
"Sometimes it can take a lot of prodding from me to get candidates to explain how they could get hired in another industry, but I shouldn't have to," says Kartin. "They should already be thinking about how to transfer their skills."
Get up to industry speed
Let's face it, you've probably gotten a little rusty during your time away from the world of work. No shame in that, of course. What would retirement be if it didn't include lots of well-deserved relaxation?
But employers don't care about how much your golf game has improved over the past few years, and they have neither the time nor the money to ease you back onto the fast track. They need employees who are up and running now. If that doesn't describe you, they'll simply move on to the next candidate.
At a minimum, you'll need to be familiar with the latest version of the standard software used in the industries you're interested in, as well as basic office programs such as Outlook, Excel, Access, and PowerPoint.
Not there yet? Look for nonprofits in your area that provide free training or community colleges that offer low-cost courses. "Most jobs today require not just computer literacy, but real fluency," says Cirillo. Plus, being technologically proficient will help you beat one common rap against older workers: Some 44% of employers believe older employees are averse to technology vs. 13% who say the same about younger workers, according to a study by the Sloan Center on Aging and Work at Boston College.
You also need to get your head back into the professional game. For each industry you're targeting, brush up on the jargon, find out who the major players are, and get familiar with the challenges that businesses in the sector are facing and the latest developments.
The best way to do that is to attend industry events, where you can listen to panel discussions, network, and come up with ideas for adding value to whatever companies you'll be approaching. Try inviting some of the people you meet in the industry out to lunch to ask for advice. Be sure to share your insights as well, along with any interesting tidbits you've picked up at conferences that they might find useful. This will make your contacts more favorably disposed to give you job leads -- or at least recommend others to talk to.
Show forward thinking
One of the biggest stereotypes about retirees is that they are set in their ways -- and sometimes it's true, says Kartin. "Many retirees don't want to compete with younger people based on their skill," he says. "They can have an almost dogged intransigence: 'I know how to do it; I've done it for 30 years,' and they expect to get the job based on that alone."
Certainly Tom Wogan feels that his experience should be viewed as a real asset. Wogan took early retirement after 36 years at Florida Power & Light Co. because, as he puts it, new management came in with "different ideas about the way things should be done." When he realized last year that he needed to work again, he spent months perusing Internet job sites, occasionally sending out rsums that underscored his many years in the industry and becoming increasingly frustrated by the lack of response.
What's wrong with his approach? For one thing, job searches these days need to be a lot more proactive. Simply looking through the classifieds probably isn't enough to get you hired. Plus, presenting yourself as a 60-year-old with 35 years of experience can make you seem as if you belong to history rather than the urgent present and promising future, career experts say. Instead, find ways to show you have successfully reinvented yourself several times over the course of your career; the implicit message is that you've done it successfully before, and you'll do it again.
"Retirees should position themselves as people who have already had two or three careers and are now eager to start on their fourth," says Kartin.
One way to do that is on your résumé: Highlight each job move as a desire for change and new challenges and show how you mastered new techniques -- and make sure the skills you emphasize are ones your research has shown are in big demand at the company in question.
If, like Wogan, you spent most or all of your career with the same employer, stress each new position or set of responsibilities you took on. In cover letters and interviews, talk about your previous experience, of course, but devote equal energy to your eagerness to take on fresh challenges.
Features

These Fortune 100 employers have at least 350 openings each. What are they looking for in a new hire? More

It would be the world's second-biggest economy. See how big companies' sales stack up against GDP over the past decade. More