Unemployment will top 10% - Greenspan
The former Fed chairman said the economy will grow 3% in the third quarter, though unemployment will also continue rising in the near term.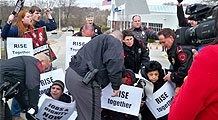 When faced with factory closures, workers fight back with mixed results.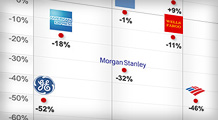 Key financial firms received a wide range of assistance during the past year. But scroll over their stocks and you'll find few winners – and plenty of losers.
More
WASHINGTON (CNN) -- The U.S. economy will grow more than expected in the third quarter, but unemployment also will continue to increase and "penetrate" the 10% barrier, former Federal Reserve Chairman Alan Greenspan said Sunday.
Greenspan told the ABC program "This Week" that he expected 3% growth in the third quarter, up from the 2.5% he previously predicted. However, he said a "pretty awful" September employment report released Friday showed the jobless rate continued to climb.
A slowing or halt in job losses is different than reversing the rise in unemployment, Greenspan noted, adding that the nation's unemployment rate -- currently 9.8% -- is "going to penetrate the 10% barrier before heading down."
That prediction matches previous comments by President Barack Obama and others who say that unemployment is a lagging indicator in an economic recovery.
Obama said Saturday his administration would focus on job creation, and Greenspan said he supported that approach. However, Greenspan said it was too soon to consider another economic stimulus package or other major spending plan.
"We are in a recovery, and I think it would be a mistake to say the September numbers alter that significantly," Greenspan said, adding: "This is what a recovery looks like. ... It's premature to act on this type of information."
The stimulus effect. Greenspan noted that only 40% of the $787 billion in Obama's first stimulus package has been spent, and he said it was helping create momentum for the economic recovery.
In particular, he cited his prediction of higher-than-expected third quarter growth. "It looks as though it's going to be 3%, possibly even higher," Greenspan said.
At the same time, Greenspan endorsed some short-term steps to help the unemployment situation, including extending jobless benefits for those out of work for months who face a cut-off.
He said he was particularly concerned at the large number of people out of work for more than six months. "Temporary actions must be taken especially to assuage the angst of a major part of the population," Greenspan said.
On the same program, two senators from opposing parties agreed on a series of necessary steps to help Americans deal with the effects of the recession.
Both Sen. Charles Schumer, D-New York, and Sen. John Cornyn, R-Texas, called for extending unemployment benefits, extending health-care benefits for the unemployed and extending housing credits to help people buy new homes.
Schumer said a bill extending unemployment benefits would reach the full Senate in the coming week and predicted it would pass, a move endorsed by Cornyn.

Features

These Fortune 100 employers have at least 350 openings each. What are they looking for in a new hire? More

It would be the world's second-biggest economy. See how big companies' sales stack up against GDP over the past decade. More