Obama home rescue: 650,000 get help
Latest report shows that 20% of eligible borrowers have gotten trial modifications under administration's $75 billion mortgage relief plan.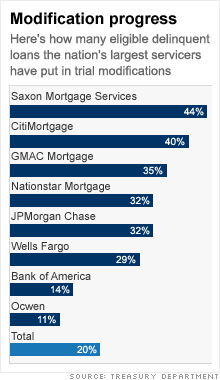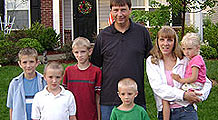 In June, CNNMoney profiled homeowners hoping to qualify for President Obama's foreclosure-prevention plan. Four months later, we check in on our panel.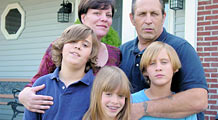 After losing their homes, these 4 families thought they'd never recover. They've found it difficult to rent and their credit is wrecked, but life is looking up.
NEW YORK (CNNMoney.com) -- Some 650,000 troubled borrowers have been put into trial loan modifications under the president's foreclosure rescue plan, the Treasury Department said Tuesday.
That number represents 20% of eligible homeowners at least 60 days behind in their payments, according to the Treasury report. This is up from 16% a month earlier.
Despite the progress, housing counselors say the number of people falling into foreclosure vastly exceeds the ranks getting assistance. The number of filings hit a record high of 937,840 in the third quarter, according to RealtyTrac, an online marketer of foreclosed homes. That's a 5% increase from the second quarter and a 23% jump over the third quarter of 2008.
The $75 billion Obama plan is "lagging behind the massive number of foreclosures that continue to pile up," said John Taylor, head of the National Community Reinvestment Coalition.
But administration officials have said that the program, which was projected to help up to 4 million homeowners, is on track.
The rescue tries to keep borrowers in their homes by adjusting monthly payments to no more than 31% of a borrower's pre-tax income. Servicers, borrowers and investors can get financial incentives to participate.
Administration officials have been pressuring loan servicers to ramp up their modification efforts. Many people have complained that financial institutions lose their paperwork, transfer them repeatedly between departments and require that they fill out applications again and again.
But the rising unemployment rate is prompting more homeowners, even those with strong credit histories, to fall behind on payments. And the president's plan is not designed to help the jobless.
At Neighborhood Housing Services of Chicago, only about one in four people are getting help from the Obama program, said Michael van Zalingen, director of homeownership services.
About 30% are not being put into trial modifications for reasons including too little income or too much equity in their homes, van Zalingen said. The rest are in limbo, mainly because the banks say their applications are incomplete.
Certainly, banks have quickened the pace of loan modification approvals, van Zalingen said. His group secured 180 modifications for clients in the second quarter, but was able to help 400 in the third quarter. He expects that a total of 1,000 clients will be put into trial modifications by year's end.
Still, the modifications are not keeping pace, van Zalingen said. NHS-Chicago will see 3,000 to 3,500 distressed borrowers seek help this year. "Loan servicers are offering trial modifications more often, but not anything like the need or demand," he said.
Just how many modifications are completed depends on the servicer. Performance remains very uneven, as it has since the start of the program.
Through October, Saxon Mortgage Services put 44% of eligible delinquent borrowers in trial modifications -- the highest percentage of about two dozen companies. Among the largest banks, Citigroup (C, Fortune 500) came in at 40% and JPMorgan Chase (JPM, Fortune 500) 32%, while Wells Fargo (WFC, Fortune 500) has placed 29% and Bank of America (BAC, Fortune 500), the biggest servicer, 14%.
What's becoming even more important is how many people in trial modifications receive permanent adjustments. The Treasury in September lengthened the trial period to five months, from three months, to give borrowers more time to send in their paperwork and banks to process it.
Treasury's monthly updates are expected to start reporting the number of permanent modifications offered within the next few months.

Features

These Fortune 100 employers have at least 350 openings each. What are they looking for in a new hire? More

It would be the world's second-biggest economy. See how big companies' sales stack up against GDP over the past decade. More