Forget Treasuries - but not other bonds
Some corporate bonds - especially of the high-yield variety - and munis could still offer yield-hungry investors healthy returns in 2010.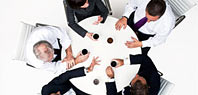 With economic uncertainty near an all-time high, we sought the advice of some of the smartest market watchers we know.
More
(Fortune Magazine) -- For all the attention paid to the stock rally of 2009, bonds actually sparked more passion among mutual fund investors: Taxable bond funds attracted inflows of $253 billion in the first 11 months of 2009, according to the Investment Company Institute, compared with outflows of $2 billion in stock funds.
Booming demand for corporate, high-yield, and municipal bonds pushed prices up, generating outsize returns for fixed-income investors.
After such a huge rally, few bonds are screaming bargains today. But with a weaker stock market likely next year, some may offer better returns than equities. Among corporate bonds, consider top-quality high-yield issues, which are yielding as much as 10%.
Junk bonds won't flourish as they did in 2009, when the average fund rose 43% through late November, according to Morningstar.
But they could still produce double-digit returns in 2010 as investors gain confidence that issuers won't fail, says Tony Rodriguez, head of fixed income at FAF Advisors: "We expect to see a steady and continued decline in default rates in 2010."
Consider a fund like Principal High Yield (CPHYX), which has returned 8% annually over the past 10 years and offers an 8.7% yield.
Build America Bonds are all the rage right now. Issuers love the new taxable munis because their interest payments are 35% subsidized by Uncle Sam, and investors like them because they yield about 5%.
Eaton Vance's new Build America Bond Fund (EBABX) offers a diversified selection. The surge in Build America Bonds could also boost regular munis. "You're taking supply out of the tax-free muni market, and [other] muni buyers will have to fight for what's left over," says Richard Ciccarone of McDonnell Investment Management.
Among tax-free munis, Ciccarone recommends general obligation bonds (as opposed to issues used to fund particular projects). Fidelity Tax-Free Bond (FTABX) keeps about 30% of its portfolio in these government-backed issues and has returned an average of 4.3% over the past five years.
Finally, avoid Treasuries for now. Short-term notes offer pitiful yields, and long-term issues are susceptible to rising inflation. "There's no justification for where rates are right now relative to longer-term inflation expectations," says Ross Junge, a portfolio manager at Aviva Investors. "Treasuries continue to be the least attractive investment in fixed income."