Nestlé: Tailoring products to local niches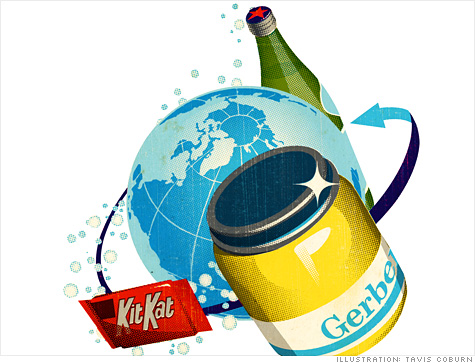 FORTUNE -- Nestlé: Famous maker of chocolate, coffee -- and the world's biggest producer of halal food for Muslims? Another surprise: that the company managed to gain market share in most business segments in a recession -- largely because of the scope of its offerings. Nestlé isn't just the biggest producer of halal food (which conforms with Islamic dietary law) in the world; it's the biggest producer of food, period (ahead of Kraft), with 2009 revenue of $99 billion. While its scale is enormous -- 1.2 billion people buy its products daily, and 28 of its brands bring in more than 1 billion Swiss francs (about $870 million) annually -- one of its strengths is not thinking like a behemoth.
Nestlé knows how to tailor products to local niches while leveraging its size. What Evolution Securities analyst Warren Ackerman calls its "glocal" approach has landed it at the No. 1 spot in its category on Fortune's World's Most Admired Companies list every year but one since 1998.
That mindset has created items like Nescafé with creamer and sugar included, useful in places lacking refrigeration, and a huge range of products targeted to subgroups like Hispanics in the U.S. "That's why we don't have two factories -- we have 450," CEO Paul Bulcke tells Fortune. "We empower our people to make consumer-relevant decisions as close as possible to the markets."
It helps that Nestlé spent nearly $2 billion on R&D last year. Along with new products, the company is expert at what it calls "renovation," or refreshing existing brands. (Cherry Raisinets, anyone?) Nestlé's research also helped it realize that health and nutrition were the future long before most of us had heard of probiotic yogurt. Its 60/40+ strategy means that, when testing a new product, it wants consumers to prefer its products over its competitors' six out of 10 times, and that it wants them to have added nutrition (the plus). As for the recent acquisition of Kraft's frozen pizza business? "There's no unhealthy food," asserts Bulcke. "There are unhealthy diets."
True or not, the diversity of Nestlé's portfolio helped it weather the storm last year. The company has offerings within every price point, such as Deer Park and San Pellegrino waters and Dreyer's Edy's and Häagen-Dazs ice cream, allowing even those that trade down to remain within the Nestlé fold without even realizing it.