Who's to blame at BP? The board
FORTUNE -- BP's Gulf disaster is the board of directors' fault -- and not just in the sense that everything is ultimately the board's fault. This board has earned its blame in a very direct way. Yet you'd never suspect it from the directors' all-star credentials.
If you're looking for doddering peers who prefer liquid lunches in the House of Lords dining room or earnest but clueless academics, you won't find them on this board. It's a knockout: Every member has reached the highest levels at famous, successful corporations. Governance wonks could fault the group for including too many BP execs (five of 14 directors), and it won't win any diversity awards. But if you want achievement and pedigree, look no further: They include the former CEOs of Ericsson (ERIC), Duke Energy (DUK, Fortune 500), and United Technologies (UTX, Fortune 500), the current CEO of Anglo American, and the former chairmen of Unilever (UL) and McKinsey.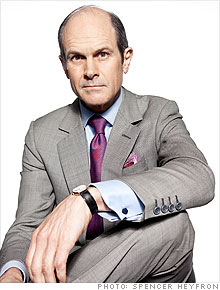 But wait, there's more. This board appears to have done everything right to make sure that BP was identifying and managing its risks and to ensure that a catastrophe like the Macondo well blowout, which caused the spill, didn't happen. A safety, ethics, and environment assurance board committee monitors nonfinancial risk. A group operations risk committee of executives reports to the CEO. A dense flow chart shows how all the pieces fit together to support BP's goal of "no accidents, no harm to people, and no damage to the environment." Obviously this elaborate structure failed, just like the well. But is it really fair to blame a terrible accident in the Gulf of Mexico on 14 people in a London boardroom above St. James's Square? It is, and here's why.
The board had known for years that something was wrong with safety at BP (BP). An explosion and fire at BP's refinery in Texas City, Texas, in March 2005 killed 15 people and injured 170; it was America's worst industrial accident in almost 20 years. Just four months later a potentially deadly hydrogen fire broke out at the same refinery, and the following month community residents were ordered to stay indoors after another accident there. That's when BP assembled an independent panel, headed by former Secretary of State James Baker, to investigate safety at its U.S. refineries. While the panel worked, a BP pipeline in Alaska leaked more than 200,000 gallons of crude in March 2006.
The panel's report, published in January 2007, is brutally direct. While its immediate focus is BP's five U.S. refineries, its findings go far beyond them. Calling for "leadership from the top of the company, starting with the Board and going down," the report found that "BP has not provided effective process safety leadership." Time and again the report notes that BP has the right standards and programs but cannot make them work. It cites specific areas in which the company failed to enforce standards, including "critical alarms and emergency shutdown devices."
The report emphasizes that the many failures it cites were "not isolated." Repeatedly it notes that "the lack of effective leadership was systemic, touching all levels of BP's corporate management." While it is management's job to implement effective safety practices, the report says, "BP's Board did not ensure, as a best practice, that management did so."
Remember, BP asked for this report. The directors wanted to know what was wrong with safety at BP and how to fix it, and the panel gave them a 347-page answer. Corporate-governance authority Robert A.G. Monks, who testified as an expert witness for a Texas City worker, says, "The BP board was on notice that the corporate culture of 'saving over safety' pervaded BP. They were on notice that the mechanisms for informing the board were dysfunctional. The board had an affirmative duty to understand the risks involved in the drilling of this well."
BP declined to make any directors available for interviews, but a spokesman says "there are no grounds" for the allegation that the board bears particular responsibility for the gulf disaster. "Since Texas City in 2005, the company has turned around its process safety systems, which have been largely rolled out across the company," he says.
It's worth remembering that after the Texas City explosion, BP announced it would "do everything possible to ensure nothing like it happens again." The board was told what needed doing. We've seen the result.