Stocks rally chilled by economic jitters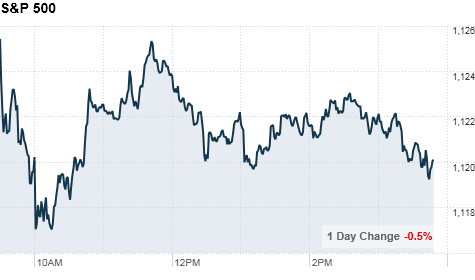 NEW YORK (CNNMoney.com) -- Stocks closed lower Tuesday, trimming some of the previous session's big gains, as optimism over corporate earnings gave way to concerns about the strength of the economic recovery.
The Dow Jones industrial average (INDU) fell 38 points, or 0.3%. The S&P 500 (SPX) index slid 6 points, or 0.5%, and the Nasdaq (COMP) composite dropped 12 points, or 0.5%.
The retreat came after stocks surged Monday, lifted by upbeat manufacturing data and strong earnings from Europe. But the investors were more cautious Tuesday following disappointing results from Procter & Gamble, and mixed reports on housing, factory orders and personal spending.
"It's the same battle between positive earnings and negative underlying fundamentals in the real economy," said Dan Cook, senior market analyst at IG Markets. "The big question is still where do we go after earnings season."
Better-than-expected corporate earnings helped boost the market 7% in July, which was the best month for stocks in a year. At the same time, however, a spate of disappointing economic reports has raised concerns about the pace of the recovery.
"The outlook is pretty dark," said Cook. "It's not dire, but growth will be slow and investors are starting to wonder where these companies will draw profits from next year."
Investors are particularly worried about consumer spending, which drives the bulk of U.S. economic activity, as household budgets remain strained by the weak job market. As a result, trading could be choppy this week as investors brace for the government's monthly payrolls report Friday.
Economists expect Friday's report to show that employers cut payrolls in July and that the unemployment rate ticked up slightly. Treasury Secretary Tim Geithner said Tuesday on ABC's "Good Morning America" that the nation's jobless rate could rise for a few months before it falls.
Investors will look for clues on the job market Wednesday, when payrolls processing firm ADP releases July data on private sector employment. In addition, outplacement firm Challenger, Gray & Christmas is due to report on last month's planned job cuts before the market opens.
"Jobs are probably the dominant economic variable with respect to the health of the economy right now," Lawrence Creatura, a portfolio manager with Federated Clover Investment Advisors, adding that consumers who are employed continue to spend.
Despite the broad decline on Tuesday, energy stocks rose as oil prices closed above $82 a barrel and BP (BP) appeared poised to permanently seal the ruptured well in the Gulf of Mexico. Chevron (CVX, Fortune 500) and ExxonMobil (XOM, Fortune 500) both gained about 1.5%.
Shares of companies with exposure to the health care industry gained on strong earnings from drugmaker Pfizer. But a dour report from Dow Chemical weighed on the basic materials sector.
Economy: Government figures showed that both personal income and spending were unchanged in June, adding to concerns about the slowing pace of the economic recovery.
Economists polled by Briefing.com had expected spending to remain flat but were forecasting personal income to edge up 0.1% in June, following a revised 0.3% gain in May.
Separately, factory orders fell for the second month in a row, declining 1.2% in June, the government said. Economists expected a 0.5% dip in total orders, after a 1.8% drop in May.
Pending home sales fell 2.6% in June, according to the National Association of Realtors. Economists had expected pending home sales to fall 5% in the month, after a 30% plunge in May.
Earnings: Procter & Gamble (PG, Fortune 500) reported that its fiscal fourth-quarter net income fell 12% from a year earlier, missing expectations. Sales rose modestly, but also fell short of forecasts.
Shares in the company, a Dow component, slid nearly 4%.
Dow Chemical (DOW, Fortune 500) reported second-quarter earnings that missed analysts' expectations, even as sales rose 20%. Excluding certain items, the largest U.S. chemical company said it earned 54 cents in the quarter. Analysts surveyed by Thomson Financial were expecting 56 cents.
Archer Daniels Midland's (ADM, Fortune 500) profit rose to $446 million and trounced forecasts, but the agricultural product company's revenue fell, surprising analysts.
Drugmaker Pfizer (PFE, Fortune 500) posted second-quarter profit and revenue that beat estimates.
Other company news: Most major automakers reported improved U.S. sales in July, making it one of the best months for industrywide sales over the past two years. General Motors, Ford (F, Fortune 500) and Chrysler all said sales rose 5% in the month, versus July 2009.
Toyota (TM) said sales slipped 3% in July, but were slightly better than analysts' forecasts. Sales slipped 2% at Honda Motor. (HMC)
French drugmaker Sanofi-Aventis (SNY) has reportedly entered into friendly takeover talks with U.S. biotech firm Genzyme (GENZ, Fortune 500). A potential deal would value Genzyme at more than $18 billion, according to the Wall Street Journal.
Research in Motion (RIMM) unveiled the much-hyped BlackBerry Torch 9800 on Tuesday, a new touch-screen BlackBerry smartphone with a pull-out keyboard and an updated operating system designed to compete with the likes of the iPhone and Android smartphones.
World markets: European markets ended mixed. Germany's DAX gained 0.2%, while Britain's FTSE 100 was little changed. France's CAC 40 fell 0.1%.
In Asia, Japan's Nikkei jumped 1.3% and the Hang Seng in Hong Kong gained 0.2%. The Shanghai Composite tumbled 1.7%.
Currencies and commodities: The dollar was lower versus the euro, the British pound and the Japanese yen.
U.S. light crude oil for September delivery rose $1.16 to settle at $82.49 a barrel.
COMEX gold's December contract edged up $2.10 to close at $1,187.50 per ounce.
Bonds: Treasury prices rose, pushing the yield on the 10-year note down to 2.91% from 2.97% late Monday. Bond prices and yields move in opposite directions.