Don't panic. Growth is still growth
NEW YORK (CNNMoney.com) -- Investors need to follow the immortal words of the 80's one-hit wonder Frankie Goes to Hollywood: Relax.
Yes, the economic recovery is losing pace. But based on Wednesday's big sell-off, you would have thought that we were heading for an imminent repeat of a 2008-style crisis.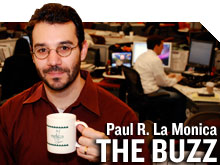 Consider that one of the bits of news that investors were worried about was the fact that the Fed said Tuesday it was going to be buying more bonds to keep rates low. That shouldn't come as a surprise to anybody following the economy. It's painfully obvious that growth is slowing. But it's still growth.
"One day does not make a trend and there was not a lot of warning for the sell-off. It was an overreaction," said Jeffrey Saut, chief investment strategist for Raymond James in St. Petersburg, Fla. "Interest rates are continuing to sink so quality, blue-chip stocks should be more attractive."
The widening trade deficit in the United States and news that China's industrial output is slowing also played a role in Wednesday's washout. Those developments are also troubling. But they too are not all that surprising.
China, for example, has made it abundantly clear that it will take steps to rein in its economy in order to make sure it does not have a real estate bubble like the one in the United States. And about that "slowdown" in China? Industrial production rose 13.4% in July, off from 13.7% in June.
"The worry is that emerging markets will be a driver of global growth and China is a big part of that. But China's numbers are still phenomenal," said Bill Stone, chief investment strategist with PNC Wealth Management in Philadelphia. "The market reaction was much bigger than you'd expect. Investors are shooting first and asking questions later."
Then there's Cisco Systems (CSCO, Fortune 500). The network equipment giant reported sales that narrowly missed analyst forecasts Wednesday. The company also said that revenue for the current quarter would be up 18% to 20%. Analysts had been forecasting an increase of 21%.
Cisco's stock plummeted nearly 10% Thursday. What really amounts to nothing more than just cautious, prudent guidance in a volatile time is being treated as if demand for networking equipment has completely evaporated.
"Cisco did not have that bad a quarter. Expectations were built up and now have to be tempered a bit," Saut said.
Here's the big problem for investors these days -- and it's one that's not going to go away anytime soon. People like consensus and certainty. But the only consensus is that there is no consensus and that the economic outlook is, to quote Fed chairman Ben Bernanke, "unusually uncertain."
For every intelligent argument that suggests what we're going through is merely a blip in what still may be a sustainable recovery, there are equally compelling cases to be made that deflation and another recession loom large on the horizon.
For every company like Macy's (M, Fortune 500), which actually posted a solid profit and decent outlook on Wednesday, there's going to be another company in the same sector like Kohl's (KSS, Fortune 500). That retailer issued a tepid forecast Thursday.
However, investors appear to be assuming the worst for the time being. You can't really blame them -- even if it means an occasional mini-panic.
"Confidence took it on the chin during the Great Recession but when stock prices were rising last year, people put their skepticism on hold for a bit. The lack of confidence has now come back to the surface," said Bruce McCain, chief investment strategist with Key Private Bank in Cleveland.
This doesn't mean that stocks are now a screaming buy and that the market should come roaring back. McCain and Saut both said the best investors can probably hope for during the next few months is that stocks will bounce around in a pretty wide range.
It just goes to show that it's a mistake to take a black-and-white approach to any industry, let alone the broader market or the economy. Nobody truly knows what's going to happen next and that is unsettling.
"Investors are in an uncomfortable spot. None of the recent data makes people happy since it's not bad enough to say there's definitely going to be a double dip but not good enough to definitely say there's not," Stone said.
- The opinions expressed in this commentary are solely those of Paul R. La Monica. Other than Time Warner, the parent of CNNMoney.com, La Monica does not own positions in any individual stocks.