China marches towards world's No. 2 economy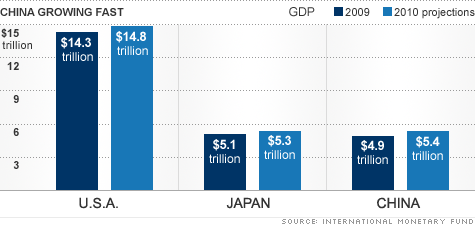 LONDON (CNNMoney.com) -- China is on track to overtake Japan as the world's second-largest economy after the United States, figures released Monday show.
Japan's gross domestic product, or GDP, totaled $1.29 trillion for the three months ending in June, the nation's Cabinet Office announced. China's official figure for the same period was $1.34 trillion.
Economist Frederic Neumann at HSBC in Hong Kong said China is forecast to overtake Japan by the end of the year -- making China the world's No. 2 economy. However, official annual figures won't come until early 2011.
The International Monetary Fund expects China's output to reach $5.4 trillion by the end of 2010. By comparison, it estimates Japan's GDP at $5.3 trillion.
Another analyst says the whole matter is academic.
"Basically, China's underlying growth rate is going to be about 8 percent over the next decade. Japan's underlying is going to be about 1 percent," said Jesper Koll, an economist with JPMorgan in Tokyo. "In 10 year's time, the Chinese economy will be twice the size of the Japanese economy."
China vs. Japan: China's economy has been growing at a breakneck pace. It achieved a growth rate of 10.3% in the second quarter, according to official data.
Growth in Japan, on the other hand, has been sluggish. In the three months ended in June, growth slowed to just 0.4%.
China's economy has been driven by its exports -- its trade surplus hit an 18-month high of $28.7 billion in July -- and supported by its massive population.
By comparison, Japan has struggled with a strong currency, which has hurt exports. The yen touched a 15-month high against the dollar earlier this month. It also is coping with an aging and shrinking population.
Last month, China's chief currency regulator told China Reform magazine the country had already surpassed Japan in output.
While there are signs that China's expansion is starting to cool, the country's growth is still easily outpacing more developed economies.
It still trails the United States by a wide margin, but some economists believe China could even eventually unseat the United States as the world's largest economy. Although, it would probably take at least a decade before that happens.
For 2009, the International Monetary Fund listed the United States as the world's largest economy at $14.26 trillion, followed by Japan at $5.07 trillion and China at $4.91 trillion.
But for a view as to where the world is heading, take a close look at automotive sales data coming out of the two countries. It is instructive -- and a bit frightening.
In the U.S., politicians and executives are patting each other on the back for having survived the recession of 2008-2009. At the same time they are hunkering down for what they call the "new normal" -- auto sales running at about two thirds of the 16 million units a year they got used to calling normal earlier in the 2000s.
China, meanwhile, continues to steam ahead at a remarkable rate, marking milestone after milestone. According to JD Power, car sales there are forecast to surge this year by 20% and reach 15.6 million units.
-- The CNNWire contributed to this report