Stocks come off week-long slump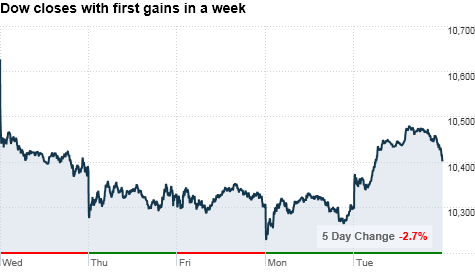 NEW YORK (CNNMoney.com) -- Stocks rallied Tuesday after a Federal Reserve regional president said fears about the central bank's outlook were "unwarranted" and investors shifted their focus to strong earnings from Wal-Mart and Home Depot.
The Dow Jones industrial average (INDU) rose 104 points, or 1%, pushing the index to 10,406.
The Nasdaq (COMP) composite climbed 28 points, or 1.3%, to 2,209; the S&P 500 (SPX) added 13 points, or 1.2%, to close at 1,092.
The gains followed a choppy trading day on Wall Street on Monday. The tech-heavy Nasdaq managed to advance, rising about 0.4%, while the Dow and S&P 500 ended little changed.
Investors started the week coming off four consecutive sessions of losses, following a bearish statement from the Federal Reserve a week ago.
And while the Fed's outlook about a slowing economic recovery is still weighing on investors' minds, their fears were calmed on Tuesday when Narayana Kocherlakota -- head of the Federal Reserve Bank of Minneapolis -- said those concerns about the central bank's statement are "unwarranted."
"My own interpretation is that the FOMC action led investors to believe that the economic situation in the United States was worse than they, the investors, had imagined. In my view, this reaction is unwarranted," Kocherlakota said in a speech Tuesday.
That statement helped propped markets up toward key psychological levels as the S&P 500 traded near 1,100 and the Dow looked to turned positive for the year in afternoon trading, said Dan Cook, senior market strategist with Chicago-based brokerage firm IG Markets. The Dow fell short of matching its 2009 close.
Cook said strong earnings reports from retail powerhouses Wal-Mart and Home Depot in the morning also helped to drive stocks higher.
But he added, he doesn't the think "the game has changed."
"As far as the fundamentals and corporate earnings are concerned, I just don't get a warm, fuzzy feeling," he said. "I'm looking for choppy action for the foreseeable future, all the way into September."
Companies: Wal-Mart Stores (WMT, Fortune 500) reported a slightly better-than-expected fiscal second-quarter profit Tuesday, although customers of the world's largest retailer continued to curb spending. Wal-Mart also boosted its full-year guidance. Shares of the retailer were up 1.3%.
Home improvement retailer Home Depot (HD, Fortune 500) posted a better-than-expected second-quarter profit that rose from a year earlier, but its sales missed forecasts. Home Depot shares gained 3.6%.
Shares of fertilizer producer Potash (POT) rose 28% after it rejected a $38 billion takeover offer by mining company BHP Billiton.
Pactiv (PTV), the maker of Hefty trash bags, gained more than 5% after agreeing to be acquired by Reynolds Group Holdings, which is a subsidiary of a New Zealand firm, for $6 billion.
General Motors is expected to file for an initial public offering of stock with U.S. securities regulators as early as Tuesday.
Economy: A wave of economic reports, including data on housing and inflation, showed mixed results before the bell.
A report from the Commerce Department showed that housing starts -- the number of new homes starting construction -- rose 1.7% to an annual rate of 546,000 in July. But permits fell 3.1% to an annual rate of 565,000.
Both of these tallies were less than expected. Economists were looking for housing starts to rise to a seasonally adjusted annual rate of 555,000; building permits were expected to slip to a rate of 573,000.
The Producer Price Index, a measure of wholesale inflation, matched expectations by increasing 0.2% in July, after dropping 0.5% in June.
World markets: European shares finished higher. The CAC 40 in France gained 1.8%, Germany's DAX rose 1.6% and the FTSE 100 in Britain gained 1.4%.
In Asia, the Shanghai Composite and Hong Kong's Hang Seng ended the session with modest gains. Japan's benchmark Nikkei index, however, fell almost 0.4%.
Currencies and commodities: The dollar fell against the euro, but rose versus the U.K. pound and the Japanese yen.
Oil futures for September delivery rose 53 cents to settle at $75.77 a barrel.
Gold futures for December delivery increased $2.10 to settle at $1,228.30 an ounce.
Bonds: Prices for Treasurys were lower. The yield on the 10-year note rose to 2.64%, coming off a 17-month low of 2.58% late Monday. Bond prices and yields move in opposite directions.