Dow and S&P post 2nd week of losses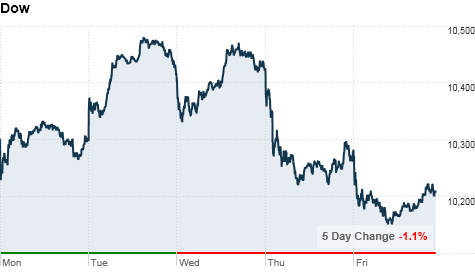 NEW YORK (CNNMoney.com) -- Stocks ended mostly lower Friday as investors continued to react to the week's downbeat economic reports that have raised concern about a double-dip recession.
The Dow Jones industrial average (INDU) lost 58 points, or 0.6%, to close at 10,213 and the S&P 500 (SPX) fell 4 points, or 0.4%, to close at 1,072, according to early tallies. It was the second straight week of losses for the two indexes.
Meanwhile, the tech-heavy Nasdaq (COMP) composite gained less than a point to 2,180, and up slightly overall for the week.
Stocks tumbled Thursday after three key economic reports slammed confidence. Weekly jobless claims rose to their highest level since November, manufacturing activity in the Philadelphia region slowed, and a key measure of future economic activity was less than had hoped.
The Dow lost 1.4%, while the S&P 500 and Nasdaq both shed 1.7%.
"When the area of great concern in the market place (jobs) gets a dismal report and the bright spot in the economy (manufacturing) gets whacked into oblivion, fear came back into the marketplace," Phil Flynn, a senior market analyst with PFG Best, said in a note to investors. "Some call it the risk aversion trade but I say that's a polite way of saying people are scared."
Weak economic reports have spurred worries about a slower recovery this summer, but bullish traders have been eager to put those fears on the back burner amid some strong earnings from Fortune 500 companies in the last few weeks. Now that the quarterly reports are tapering off, some of those gloomy economic reports are once again taking over the spotlight.
"Investors remain on edge over the direction of the economy," said Peter Cardillo, chief market economist at Avalon Partners. "Recent economic reports, especially employment data, continue to be a worry for the market and overshadow the good news, including the expansion of corporate America."
While takeover activity and merger deals are picking up steam, a sign that companies are preparing for "better times," Cardillo said the market is still debating whether the economy is headed for a double-dip recession.
Companies: Shares of Research in Motion (RIMM) dropped 3.4% to $48.72 after analysts at Morgan Stanley downgraded the BlackBerry maker to a "sell" rating because the company could lose market share more quickly than previously anticipated.
The downgrade sent the stock inching closer to the company's 52-week low of $47.42 a share.
Economy: State unemployment turned gloomier in July, with jobless rates rising in 14 states and remaining unchanged in another 18. But 18 states and the District of Columbia saw a decrease in their unemployment rates, according to the Labor Department's monthly report on state unemployment.
The state unemployment picture was slightly worse than in June, when jobless rates eased in more than half of all U.S. states for a third straight month and only five states reported jobless rate increases.
The report came a day after a separate government reading showed the number of Americans filing for unemployment insurance unexpectedly surged last week.
World markets: European shares closed lower. Germany's DAX fell 1.2% and the CAC 40 in France slipped 1.3%. Britain's FTSE 100 was 0.3% lower.
Asian markets ended the session in negative territory. Japan's Nikkei led declines in the region, sinking nearly 2%. The Shanghai Composite dropped 1.7% and the Hang Seng in Hong Kong fell 0.4%.
Currencies and commodities: The dollar rose against the euro, the U.K. pound and the Japanese yen.
Oil futures for September delivery settled down 97 cents to $73.46 a barrel. Gold for December delivery slipped $6.60 to settle at $1,228.80.
Bonds: Prices for Treasurys dipped in afternoon trading, sending the yield on the 10-year note up to 2.61% from 2.57% late Thursday. Bond prices and yields move in opposite directions.