Stocks slump at the close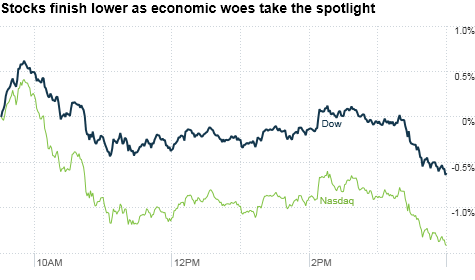 NEW YORK (CNNMoney.com) -- U.S. stocks ended a choppy day of trading lower Monday, as a dismal economic outlook overshadowed earlier optimism fueled by takeover talk.
After starting the session sharply higher and seesawing throughout the day, the Dow Jones industrial average (INDU) lost 39 points, or 0.4%, the S&P 500 (SPX) ticked down 4 points, or 0.4%, and the Nasdaq (COMP) composite dropped 20 points, or 0.9%.
It's been a rocky ride for Wall Street over the past couple of weeks, as investors have shifted their focus between positive company news and gloomy economic readings.
Disappointing reports on jobs, manufacturing and economic activity battered confidence last week, dragging the Dow and S&P lower for the second straight week.
With little economic news on tap Monday, investors turned their attention to talk about takeover activity. But an early comeback failed to gain steam, ending in yet another down day for the three major indices.
"We're trying to reverse some of those losses," said Steven Goldman, a market strategist at Weeden & Co. "But since economic data has been showing gradual signs of weakness there's still an overshadowing concern that will likely keep any rally narrow and in a defensive tone."
Economy: No major economic releases were scheduled Monday, so investors were already looking ahead to the government's revised reading of GDP due Friday, said Dave Rovelli, managing director of U.S. equities at Canaccord Adams.
Gross domestic product (GDP), the broadest measure of the nation's economic activity, is forecast to be revised down to an annual rate of 1.4%, a significant drop from its previous reading of 2.4%.
"Everybody knows it's going to be revised down, so everybody is nervous and just waiting for that number," said Rovelli. "But because it's the last two weeks of August and stocks tend to drift higher when trading volume is so light, you may see the market start to rally until that GDP number comes out."
Last week, investors were hit with a slew of dismal indicators, including a report showing that weekly jobless claims surged to the highest level since November.
Companies: Hewlett-Packard put in a bid early Monday for data-storage company 3PAR, offering $1.6 billion, a 33.3% premium on the offer proposed by rival Dell last week. Shares of 3PAR (PAR) spiked nearly 45%, while Dell's (DELL, Fortune 500) stock slipped 1% and shares of HP (HP) fell 2%.
Shares of fertilizer producer Potash (POT) closed slightly higher after its board of directors told shareholders to reject a hostile takeover bid of $38 billion from mining company BHP Billiton (BHP), saying "superior offers or other alternatives are expected to emerge." Shares of BHP fell less than 1%.
The Gulf Coast Claims Facility, led by Kenneth Feinberg, will take over the BP oil spill claims process Monday. The claims will be paid using the $20 billion escrow account established by BP (BP). Shares of the oil company dipped less than 1%.
World markets: European shares closed higher. The CAC 40 in France rose 0.8%, Britain's FTSE 100 gained 0.8% and the DAX in Germany was up 0.1%.
Asian markets slipped. Japan's benchmark Nikkei index ended down 0.7%, the Hang Seng in Hong Kong fell 0.4% and the Shanghai Composite edged lower 0.1%.
Currencies and commodities: The dollar rose against the euro and the U.K. pound, but fell versus the Japanese yen.
Oil futures for October delivery slipped 72 cents to settle at $73.10 a barrel. Gold for December delivery edged down 30 cents to $1,228.50.
Bonds: Treasury prices were higher, and the yield on the 10-year note fell to 2.60% from 2.62% late Friday. Bond prices and yields move in opposite direction.
Market breadth: Market breadth was negative. On the New York Stock Exchange, losers outnumbered winners by two to one on volume of 865 million shares. On the Nasdaq, decliners beat advancers by nearly three to one on volume of 1.7 billion shares.