Nikkei sinks to 16-month low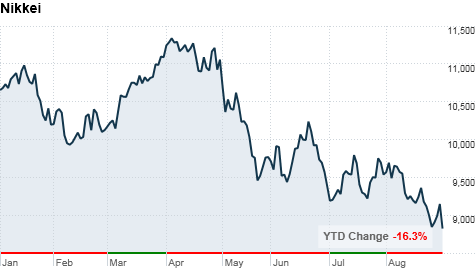 NEW YORK (CNNMoney.com) -- World markets slumped Tuesday, with the Nikkei ending at a 16-month low, as the yen remained strong despite efforts by the Bank of Japan to keep a lid on the Japanese currency's rise.
Analysts called the move "too little," and the announcement did little to calm investors. The Nikkei sank 3.6% and the dollar was trading at ¥80.37 yen.
On Monday, the Japanese central bank held an emergency meeting and announced a new ¥10 trillion ($117.15 billion) six-month loan program for financial institutions. The aim is to curb the yen's strength and lift Japan's struggling economy.
"The Bank recognizes that Japan's economy faces the critical challenge of overcoming deflation, and returning to a sustainable growth path with price stability," the bank said in a statement.
Last week, the yen hit a 15-year high versus the dollar at ¥84.16, as jittery investors flocked to the Japanese currency. The yen is seen as a low-risk investment during times of economic uncertainty. Over the past four months, the yen has climbed more than 10% against the dollar.
Asian technology shares led the decline. Investors have been nervous about demand for tech products following a downbeat outlook from Intel (INTC, Fortune 500), the large U.S. chipmaker. On Friday, Intel warned its third-quarter revenue will fall below forecasts as consumer demand for personal computers slipped.
Japan's jitters spilled over to other markets. The Hang Seng in China closed 1% lower and European stocks were following the drop in Asian indexes.
The CAC 40 in France was 0.9% lower, the DAX in Germany fell 0.7%, and Britain's FTSE 100 dropped 1%.
Meanwhile, U.S. stocks were set to fall ahead of reports on housing prices, consumer confidence and manufacturing. Dow Jones industrial average (INDU), S&P 500 (SPX) and Nasdaq (COMP) futures were lower ahead of the opening bell.