Stocks fall on European bank woes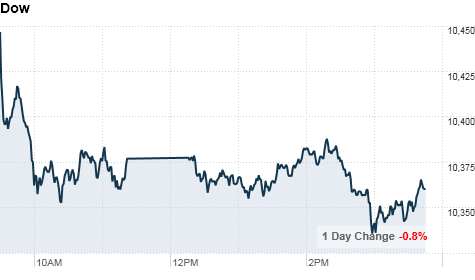 NEW YORK (CNNMoney.com) -- U.S. stocks fell Tuesday as renewed worries about European banks weighed on financial stocks and investors flocked to such safe-haven assets such as the dollar, Treasurys and gold.
All three indexes fell about 1%. The Dow Jones industrial average (INDU) fell 107 points to 10,341, the S&P 500 (SPX) slipped 13 points to close at 1,092 and the Nasdaq (COMP) lost 25 points to 2,209, according to early tallies.
During last week's stock rally, the Dow turned positive for the year. But Tuesday's losses quickly turned the index back into the red.
On Friday, the major indexes gained more than 1%, after a government report showed fewer jobs were lost in July than economists had expected. U.S. markets were closed Monday for Labor Day.
"We're in September, which is traditionally a softer month for stocks, and so far we've escaped that," said Peter Cardillo, chief market economist for Avalon Partners. "But lingering worries won't diminish until we get more indicators that show the decline in economic activity is leveling off and beginning to turn around again."
Economy: Fears that European banks may be in worse shape than indicated by recent financial stress tests spooked investors, said Anthony Conroy, head trader at BNY ConvergEx Group.
"Investors are questioning the shape of the banks, because reports are saying that their sovereign debt holdings are weaker than previously thought," he said. "People see this news coming out and begin to worry more about a possible double-dip [recession], because you can't have a healthy economy without healthy financials."
The renewed worries came after an analysis in Tuesday's Wall Street Journal that said Europe's stress tests -- aimed at measuring the health of the continent's financial sector -- understated major banks' holdings of government debt.
Financial stocks sank after the report, with American Express (AXP, Fortune 500) leading the way with nearly 4% losses and Citigroup (C, Fortune 500) and JP Morgan Chase (JPM, Fortune 500) both falling more than 2%. Shares of Bank of America (BAC, Fortune 500) also fell 2%.
President Obama will introduce a new $200 billion tax cut on Wednesday that will allow businesses to write off all new investments in equipment made between now and the end of 2011.
A reading on hiring from employment firm Manpower showed that employers are likely to remain reluctant to boost hiring in the fourth quarter.
Companies: Shares of Oracle (ORCL, Fortune 500) gained 6% after the business software maker said it has hired former Hewlett-Packard (HPQ, Fortune 500) CEO Mark Hurd as its president. Later in the day, HP filed suit to block Hurd from the taking the job.
Meanwhile, Barclays (BCS) shares sank 5.4% after the British bank announced its CEO John Varley will retire March 31. Bob Diamond, the bank's U.S.-born president and investment banking chief, will replace Varley.

World markets: European shares dipped. The CAC 40 in France tumbled 1.1%, the DAX in Germany fell 0.6%, and Britain's FTSE 100 lost 0.6%.
Asian markets ended mixed. Japan's benchmark Nikkei index dropped 0.8%, while the Shanghai Composite edged up 0.1% and the Hang Seng in Hong Kong gained 0.2%.
Currencies and commodities: Gold for December delivery rose $8.20 to settle at $1,259.30 an ounce, after surging to a two-month high of $1,261.60 earlier in the day. Oil futures for October delivery dropped 51 cents to settle at $74.09 a barrel.
Bonds: The reignited eurozone fears also spurred investors to buy U.S. Treasurys, sending prices higher and yields lower. The yield on the 10-year Treasury note fell to 2.61% from 2.71% late Friday.