Gold glitters at record high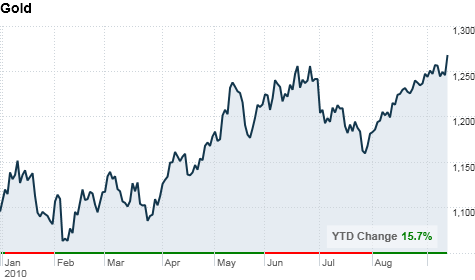 NEW YORK (CNNMoney.com) -- Gold surged to a new record high Tuesday, as uncertainties about the global economy sent some investors flocking to the save-haven precious metal.
Gold futures for December delivery, the most actively traded contract, rose $24.60, or 2%, to settle at a new record high of $1,271.70. That topped the previous record of $1,264.80 reached on June 21.
Gold is often seen as the ultimate low-risk asset because it is tangible and unlike currencies, it isn't tied to any one country's policies.
A number of global headlines were fueling the flight to safety on Tuesday, said Phil Flynn, senior market analyst with PFG Best.
Investors are concerned about how banks will phase in the new regulations announced in Basel, Switzerland, over the weekend, he said.
They're also using gold as a hedge against the dollar, which fell to a fresh 15-year low against the yen Tuesday, after Japan's Prime Minister Naoto Kan won re-election. Investors have been looking for the Japanese government to jump in to limit the currency's rise, as a stronger yen can hurt profits at Japan's export businesses. Kan has resisted pressure to do so.
Adding further fuel to the fire, Flynn called out reports showing declines in gold production from Russia -- among the top producers in the world.
"If you ask five people on the street why they're buying gold, five people could give you a different reason," Flynn said. "If you're worried about a weak dollar, you buy gold. If you're worried about bank failures, you're buying gold. If you're worried the global system is going to collapse, guess what? You buy gold."
Gold rose to record highs earlier this year as fears about Europe's sovereign debt crisis escalated, and in late 2009, gold had surged when investors fretted about a weak dollar and inflation fears.
But while gold prices hit a record on Tuesday, they were still a far cry from their real peak, as measured in dollars adjusted for inflation.
Gold hit its summit on Jan. 21, 1980, when it peaked at $825.50 an ounce, in 1980 dollars. That translates to an all-time peak of $2,163.62 an ounce in 2009 dollars.