Dow hits 5-month high, Nasdaq sinks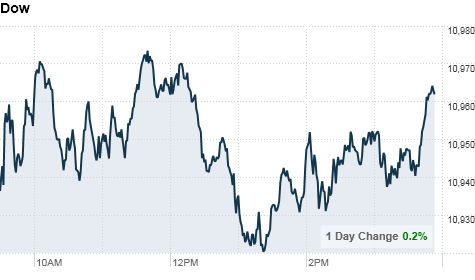 NEW YORK (CNNMoney.com) -- Stocks ended Wednesday's choppy session mixed, as cautious investors mulled two reports showing continued weakness in the job market. The news comes ahead of the closely-watched monthly jobs report due Friday.
The Dow Jones industrial average (INDU) added 23 points, or 0.2%, with GE (GE, Fortune 500) and Alcoa (AA, Fortune 500) leading the advance. The modest gains allowed the blue chip index to close at a fresh five-month high. The index's laggards included AT&T (T, Fortune 500) and Bank of America (BAC, Fortune 500).
The S&P 500 (SPX) seesawed between gains and losses, but ended the session flat, down less than one point from the five-month high it closed at Tuesday.
The Nasdaq (COMP) slumped throughout the day, and ended the session 19 points lower, or 0.8%. The tech-heavy index was dragged down as telecommunications company Equinix (EQIX) plunged 33% and computer software firm Citrix Systems (CTXS) sank 14.3%.
All three major indexes rallied 2% Tuesday to the highest levels since May. A report showing that service sector activity improved in September, and a surprise move by Japan's central bank to cut interest rates, sparked a broad-based rally.
But the enthusiasm evaporated Wednesday, as the dour jobs numbers weighed on investor sentiment ahead of the government's September jobs report on tap for Friday.
"The market remains focused on economic news, and most of the concerns are over the employment picture. So anything like today's payroll numbers reminds investors that the economy is still far from perfect, which leads to some weakness," said Matt King, chief investment officer at Bell Investment Advisors.
According to a consensus of economists polled by Briefing.com, the number of jobs is expected to remain flat in the upcoming monthly report. At the same time, the unemployment rate is expected to have ticked up to 9.7% from 9.6%.
But King said corporate earnings season, which unofficially kicks off after the closing bell on Thursday when Alcoa (AA, Fortune 500) reports its results, could lift the markets.
"We're expecting company results to show the same type of improvement we've seen for most of this year, and regain the market's attention," King said. "As those come in, stocks should move higher throughout the fourth quarter."
Economy: Payroll processing firm ADP reported the private sector jobs plunged in September, trouncing the forecast of an increase.
The U.S. economy lost 39,000 private sector jobs last month, said ADP on Wednesday -- which was much worse than expected. Economists were forecasting the report to show private sector employers added 18,000 jobs in September.
The number of job cuts planned by employers edged up slightly in September. However, the number remained near a rock bottom 10-year low reported in August, according to a report from outplacement firm Challenger, Gray & Christmas.
Employers said they would cut 37,151 jobs in September, up 7% from the 34,768 job cuts reported in August.
As traders look ahead to the government's jobs report due on Friday, they will use the ADP and Challenger reports as a gauge of the national unemployment picture.
Meanwhile, the International Monetary Fund said a double dip recession is unlikely, but global economic growth will slow from 4.8% this year to 4.2% in 2011.
Companies: Johnson & Johnson (JNJ, Fortune 500) announced a deal to aquire Dutch biotechnology company Crucell (CRXL) for about $2.43 billion. J&J already owns 17.9% of Crucell's outstanding shares and last year, the two companies started working together on a flu vaccine. Both companies' stocks finished higher.
Costco (COST, Fortune 500) said its fourth-quarter income rose 16% to $432 million, or 97 cents per share -- beating analysts' estimates of 95 cents per share. The wholesaler's earnings got a boost from increased membership sales and strength overseas. Shares rallied 1.2%.
In a continued effort to expand its $40 billion energy business, GE (GE, Fortune 500) said it is buying energy technology and service provider Dressing Inc. for $3 billion. GE's stock rose 2.4%.
Shares of AMR (AMR, Fortune 500), the parent company of American Airlines, rose 1.6% after the airline said it is bringing back hundreds of furloughed pilots and attendants, after forming joint businesses with several other airlines.
Verizon's (VZ, Fortune 500) stock climbed out of negative territory and spiked 0.9% after rumors that Apple (AAPL, Fortune 500) is building a "Verizon-ready" iPhone resurfaced in a story in the Wall Street Journal.
World markets: European shares closed with solid gains. Britain's FTSE 100 climbed 0.8%, while France's CAC 40 and the DAX in Germany advanced 0.9%.
Asian shares finished sharply higher. Japan's Nikkei index leapt 1.8% and the Hang Seng in Hong Kong jumped nearly 1.1%. The Shanghai Composite is closed for a week-long holiday.
Currencies and commodities: The dollar slipped against the euro, the British pound and the Japanese yen.
Gold futures for December delivery rose $7.40 to settle at an all-time high of $1,347.70 an ounce, after reaching a fresh intraday record trading high of $1,351 an ounce earlier.
The price of crude oil for November delivery added 41 cents to settle at $83.23 a barrel.
Bonds: Prices for U.S. Treasurys rose, pushing the yield on the 10-year note down to 2.40% from 2.48% late Tuesday. Bond prices and yields move in opposite directions.