Wall Street stages late day comeback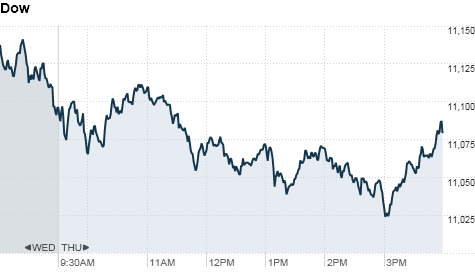 NEW YORK (CNNMoney.com) -- In an abrupt about-face, stocks closed with minor losses Thursday as investors shook off concerns about the banking sector to do some bargain hunting late in the day.
The Dow Jones industrial average (INDU) closed down 1 point, after tumbling more than 40 points earlier in the session. The S&P 500 (SPX) lost 4 points, or 0.3%. The Nasdaq (COMP) slid 6 points, or 0.2%.
Bank stocks led the market lower in the morning as concerns about investigations into foreclosure proceedings by state regulators weighed on the sector.
JPMorgan (JPM, Fortune 500) lost 2.8% one day after it reported a surge in third-quarter profit. Bank of America (BAC, Fortune 500) fell 5%, and Citigroup (C, Fortune 500) lost 4.4%.
But stocks regained most of the lost ground in the afternoon as buyers came back into the market to scoop up shares that had been beaten down earlier in the session, said Ryan Larson, a senior equity trader at RBC Global Asset Management.
"As the financials weighed on the market, things became cheap," he said.
After the closing bell, Google (GOOG, Fortune 500) reported quarterly profit and sales that rose from year-ago levels and beat Wall Street's forecasts. Shares of the web giant were up 9% after hours.
Chipmaker AMD (AMD, Fortune 500) reported a quarterly loss that narrowed from last year, although its adjusted earnings beat analysts' expectations. Shares rose 7% in extended trading.
The reports were the latest in a slew of quarterly financial statements released this week from major U.S. companies. On Friday, the deluge will continue with General Electric (GE, Fortune 500) and Mattel (MAT, Fortune 500) due to report results before the market opens.
Larson said investors are looking for solid revenue growth and will pay close attention to what executives have to say about the outlook for next year.
"It has to be about sales, not cost cutting," he said. "And the revenue picture has been mixed so far."
Meanwhile, the dollar continued to deteriorate on Thursday. That helped to drive gold prices higher as investors moved to more tangible assets. Oil prices also rose.
The greenback has been under pressure this week, as investors anticipate another round of asset purchases from the Federal Reserve. That policy -- known as quantitative easing -- could push interest rates down and keep the dollar weak.
Fed policy will probably be in focus again Friday morning when Ben Bernanke, the central bank's chairman, makes a speech in Boston.
Also on Friday, investors will take in reports on consumer prices and retail sales, as well as consumer sentiment, business inventories and regional manufacturing activity.
Stocks rallied Wednesday, amid speculation that the central bank will announce plans to do more quantitative easing at its next meeting in November.
Economy: Initial jobless claims rose to 462,000 in the latest week, from a revised 449,000 the week before, the Labor Department said.
Economists had expected initial claims to have risen to 450,000, according to consensus estimates from Briefing.com.
The government's latest reading on inflation at the manufacturing level rose 0.4% in September, matching the pace in August. Excluding volatile food and energy prices, core PPI rose 0.1%, also the same rate as the month before.
The U.S. trade balance widened to $46.3 billion in August from a revised $42.6 billion in July, the Commerce Department said.
Companies: Verizon Wireless said it will begin selling Apple's iPad at its 2,000 retail stores nationwide beginning next month.
The move ends AT&T's (T, Fortune 500) exclusive grip as the wireless carrier for Apple's wildly popular tablet, and potentially sets the stage for a broader partnership between Apple and Verizon.
Verizon (VZ, Fortune 500) shares were up 0.5%. Apple's stock, which crossed $300 for the first time Wednesday, dipped 0.4%.
Shares of Yahoo (YHOO, Fortune 500) gained 4.5%, after The Wall Street Journal reported AOL is considering teaming up with private-equity firms to make a bid for the search engine.
Apollo Group (APOL), which operates the University of Phoenix, withdrew its 2011 earnings guidance late Wednesday. Apollo said the company faces an "uncertain regulatory environment." The stock plunged 23%, dragging down other education companies such as DeVry (DV) and ITT Educational Services (ESI).
World markets: European markets ended mixed. Germany's DAX rose 0.4%, while the CAC 40 in Paris fell 0.2% and the FTSE 100 lost 0.3%.
In Asia, stocks closed in positive territory. The Hang Seng in Hong Kong rose 1.7% and the Shanghai Composite gained 0.6%. Japan's Nikkei edged higher 1.9%.
Commodities and Currencies: The dollar fell against major international currencies including the British pound, the Japanese yen and the euro.
Gold futures for December delivery rose $7.10 to close at $1,377.60 an ounce. In earlier trading, gold reached $1,388.10 an ounce -- a new intra-day trading high.
The price of oil gained 48 cents to settle at $82.53 per barrel.
Bonds: The price fell on the benchmark 10-year U.S. Treasury, pushing up the yield to 2.46% from 2.42% late Wednesday.