Stocks rally, but close off session highs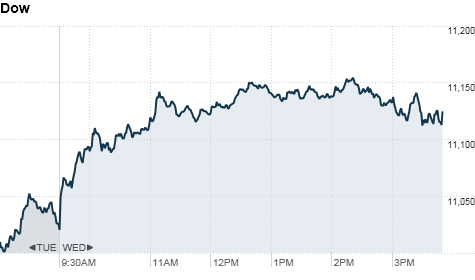 NEW YORK (CNNMoney.com) -- Stocks rallied Wednesday as investors bet that the Federal Reserve is moving toward a more accommodative policy.
The Dow Jones industrial average (INDU) closed up 76 points, or 0.7%, after climbing 130 points earlier in the session. The S&P 500 (SPX) gained 8 points, or 0.7%, and the Nasdaq (COMP) rose 23 points, or 0.9%.
The advance began after blue chips JPMorgan Chase and Intel reported quarterly earnings that beat Wall Street estimates. But traders said the rally was driven by speculation the Fed will announce plans next month to resume large-scale purchases of Treasurys, a strategy called quantitative easing.
"Earnings so far have been strong, and that's definitely a positive," said Abigail Doolittle, a portfolio manager at Johnson Illington Advisors. "But everything is taking a backseat to this incredible focus on QE2," she added, using Wall Street shorthand for the Fed policy.
Minutes from the Fed's September policy meeting showed Tuesday that the central bank is willing to make good on its pledge to support the economy if conditions continue to deteriorate. Investors took that as a sign the Fed will announce plans to buy more Treasurys at its next policy meeting in November.
The dollar, which would suffer if more Treasurys were purchased, continued to weaken Wednesday. Treasury prices fell, pushing yields higher, as investors transferred money into stocks.
The anemic dollar boosted commodities that are priced in the U.S. currency, such as gold and oil. Gold rose to another record high, and oil prices surged 1.6%.
Strength in commodities helped support shares of companies in the industrial and materials sector. Caterpillar (CAT, Fortune 500) and Boeing (BA, Fortune 500) both rose more than 1%.
The weak dollar also lifted shares of companies that do business overseas, since a softer greenback boosts profits for U.S. multinationals. IBM (IBM, Fortune 500), 3M (MMM, Fortune 500) and United Technology (UTX, Fortune 500) all gained significant ground.
"It's a risk on trade," said David Levy, portfolio manager at Kenjol Capital Management. "Investors are putting money into assets that will benefit from a weaker dollar."
Stocks recovered from early loses on Tuesday to close higher after the Fed minutes were released.
On Thursday, the nation's troubled job market could come to the fore when the Labor Department's weekly report on initial claims for unemployment benefits comes out. A report on inflation at the wholesale level is also due before the market opens.
After the closing bell Thursday, search giant Google (GOOG, Fortune 500) is expected to report another jump in quarterly profit.
Companies: Apple's (AAPL, Fortune 500) stock rose to $300.11 per share, climbing above $300 for the first time ever. That's an increase of about 40% year-to-date, driven by the success of its iPad and iPhone.
JPMorgan Chase (JPM, Fortune 500) reported earnings of $4.4 billion as its loan losses continued to decline.
After rising about 2% earlier in the session, shares of JPMorgan fell 1.4% on concerns about the legal implications of potentially inaccurate foreclosure filings.
The bank acknowledged that it has found cases in which the signers of foreclosure affidavits didn't personally review underlying loan files, as they are required to. It also said affidavits weren't properly notarized in some cases.
But the strong report could bode well for Citigroup (C, Fortune 500), Wells Fargo (WFC, Fortune 500), Bank of America (BAC, Fortune 500), Morgan Stanley (MS, Fortune 500) and Goldman Sachs (GS, Fortune 500). All are slated to report their results next week.
On Tuesday, Intel (INTC, Fortune 500), reported a rise in quarterly sales and profit. Despite the upbeat results, shares of the chipmaker fell 2.7% Wednesday.
Shares of CSX (CSX, Fortune 500) rose 4.2% after the railroad operator posted results that beat expectations after the closing bell Tuesday. Other railroad companies also gained, including Union Pacific (UNP, Fortune 500) and Norfolk Southern (NSC, Fortune 500).
Shares of MGM Resorts International (MGM, Fortune 500) fell over 11% after the casino operator warned Tuesday that it expects to suffer a loss of 70 cents per share in the third-quarter.
Chevron (CVX, Fortune 500) said Tuesday that it expects to report a drop in earnings when it releases its third-quarter results later this month. Shares of the oil giant dipped 0.2%.
Economy: The Bureau of Labor Statistics reported that U.S. import prices fell 0.3% in September, following an increase of 0.6% the prior month. The price of fuel imports led the decline, falling 3.1%.
Export prices rose in September by 0.6%, following a rise of 0.8% the prior month. This was driven by agricultural import prices, which rose 2.4%.
World markets: European markets ended sharply higher. The FTSE 100 in London, CAC 40 in Paris and Germany's DAX all gained more than 2%.
In Asia, stocks closed in positive territory. The Hang Seng in Hong Kong shot up 1.5% and the Shanghai Composite gained 0.7%. Japan's Nikkei edged higher 0.2%.
China posted a trade surplus of $16.9 billion for September, as exports climbed 25% and imports rose 24%. That's down from a $20 billion surplus in August.
But the drop was not enough to ease tensions between the China and the United States, which has been pressuring China to allow its currency to appreciate against the dollar because an undervalued yuan hurts U.S. manufacturers by undercutting their export prices.
"China's overall trade surplus may have declined slightly last month, but tensions are unlikely to do the same," said Mark Williams, senior China economist at Capital Economic.
Commodities and Currencies: The dollar slipped against the major international currencies, including the British pound, the Japanese yen and the euro.
Gold futures for December delivery surged $23.80 to settle at another record high of $1,370.50 an ounce.
The price of oil rose $1.29 to close at $82.96 per barrel.
Treasurys: The price fell on the benchmark 10-year U.S. Treasury, pushing up the yield to 2.43% from 2.42% late Tuesday.