Dow holds triple-digit gains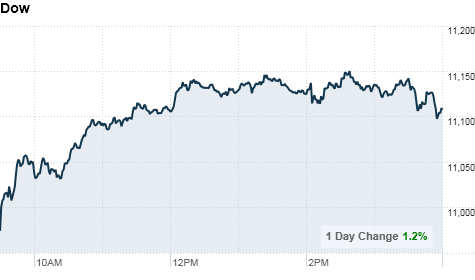 NEW YORK (CNNMoney.com) -- Stocks have fallen into a pattern: Rise, rise, rise for several sessions, then sell off after a spot of bad news. Recover the next day, and repeat.
This week has been no exception. Stocks rebounded to end sharply higher Wednesday, following the worst session in more than two months. Investors digested a mixed batch of financial results and shrugged off a tepid report on regional economic conditions.
The Dow Jones industrial average (INDU) added 129 points, or 1.2%, to end at 11,107.97. The S&P 500 (SPX) gained 12 points, or 1.1%, to close at 11,178.17, and the Nasdaq (COMP) rose 20 points, or 0.8%, to settle at 2,457.39.
Gains were broad-based in the recovery from Tuesday's rout, with 27 of the 30 blue-chip Dow components ending higher. Airline stocks received a boost following Boeing's upbeat earnings, but financial shares lagged on mixed reports from big banks.
Stocks have been rising on speculation that the Federal Reserve will announce plans to resume large-scale purchases of U.S. Treasuries, a policy called quantitative easing, when it meets next month.
"Everyone's thinking, the Fed's got my back, and when they run out of money they'll just find some more," said Joseph Saluzzi, co-head of equity trading at Themis Trading.
But investors fled stocks Tuesday after China unexpectedly raised interest rates, heightening concerns that cooling growth in China would drag on global growth. Major U.S. stock indexes posted the biggest one-day declines since early August.
Saluzzi said the market is in a cycle of rising for weeks on an expectation of Fed moves -- then selling off for a day on disappointing news, followed by a rebound session.
"It's more of the same, with no end in sight," Saluzzi said of Wednesday's session.
Companies: Shares of Wells Fargo (WFC, Fortune 500) ended 4.3% higher after the bank posted a profit of $3.15 billion, or 60 cents per share -- up 19% from a year earlier and above what analysts estimated. The San Francisco-based bank's sales were in line with expectations at $20.9 billion.
Morgan Stanley (MS, Fortune 500) reported a profit of $313 million, or 5 cents per share, for the third quarter -- down $67% from a year ago, due to a weak trading environment. Revenue also tumbled 20% compared to a year ago. Shares closed flat.
Dow component Boeing (BA, Fortune 500) said it earned $837 million, or $1.12 per share, on revenue of $17 billion -- topping expectations for earnings of $1.06 per share on revenue of $16.8 billion.
The aircraft maker also raised its guidance for the remainder of the year to between $3.80 and $4 per share, thanks to an improved outlook for commercial airplanes. Shares spiked to end 3.4% higher.
Yahoo (YHOO, Fortune 500) reported higher net income from the year-earlier period after U.S. markets closed Tuesday. But the company posted sales that fell short of expectations. Shares rose 2% Wednesday.
After the bell Wednesday, Netflix (NFLX) said its third-quarter net income grew as its subscriber base increased 52% over the year. Shares rose almost 8% in after-hours trade.
Economy: The Federal Reserve released its Beige Book at 2 p.m. ET, which showed that economic growth in various regions continued at a modest pace last month. Despite the lagging housing market, the Fed reported bright spots in the manufacturing, travel, tourism and auto industries.
The Fed's monetary policy has been in focus as investors anticipate the central bank's launch of a new round of quantitative easing at the conclusion of its meeting on Nov. 3.
World markets: European markets ended higher. The CAC 40 in France gained 0.4%, DAX in Germany rose 0.5%, and Britain's FTSE 100 posted a 0.4% increase.
Asian markets mostly finished lower on Wednesday, as investors got their first chance to react to China's rate hike. Japan's benchmark Nikkei tumbled 1.7% and the Hang Seng in Hong Kong dropped 0.9%. Shares in Shanghai closed a shade higher.
Commodities and currencies: The dollar fell against the British pound, euro and Japanese yen.
Oil prices for November delivery gained $2.28 to settle at $81.77 a barrel.
Gold futures for December delivery rose $8.20 to close at $1,344.20 an ounce.
Bonds: The price on the benchmark 10-year Treasury bond was unchanged, and the yield held steady at 2.48%.