Stocks hold gains on election day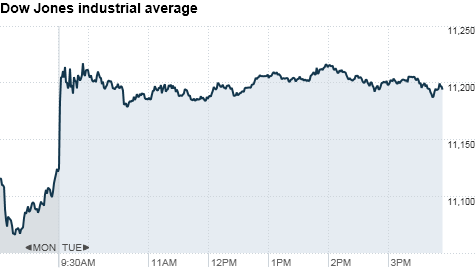 NEW YORK (CNNMoney.com) -- After an initial boost at the market's open, stocks held steady throughout the day as investors sat on their hands to wait for the outcome of two major events: the mid-term elections and a two-day Fed meeting.
The Dow Jones industrial average (INDU) closed ahead 64 points, or 0.6%, with 23 of its 30 components rising. The S&P 500 (SPX) rose 9 points, or 0.8%, and the Nasdaq (COMPX) climbed 29 points, or 1.1%.
Early in the morning, stocks got an upward jolt from optimism about rapid growth overseas, after both Australia and India raised their key interest rates in an effort to fight off inflation. The rate hikes weakened the U.S. dollar increasing demand for riskier assets like stocks.
As investors refocused on the mid-term elections later in the day, stocks held on to those gains rather steadily on light trading volume.
"People are just holding on to their positions, waiting to see what happens overnight and tomorrow, said Brian Lazorishak, portfolio manager at Chase Investment Counsel of Charlottesville, Va.
Stocks are coming off a lackluster trading day Monday, which was dominated by jitters about the elections and Fed.
Elections and the Fed: Many on Wall Street expect Republicans to win the 39 seats needed to take control of the House. In the Senate, the GOP would need to win 10 of the 37 seats up for grabs to get the majority.
A Republican majority could be perceived as pro-business and therefore give a boost to the market.
"Most of the people I'm dealing with are hoping Republicans get a firm grip on things, and the thinking is that that ultimately helps out the economy," said Phil Streible, a senior market strategist with futures broker Lind-Waldock. "Spending won't be as loose, budgets will be more in line and fiscal responsibility will kick in."
Meanwhile, the Fed ends its two-day meeting, with a highly anticipated policy statement due Wednesday afternoon. The central bank is expected to unveil a new round of asset purchases, as part of a wider quantitative easing plan.
Investors are also looking ahead to Friday's jobs report from the Labor Department. Economists expect the report to show that employers added 60,000 jobs last month.
Companies: BP (BP), recovering from the Gulf oil spill, reported a third-quarter profit of $1.8 billion that included a $7.7 billion pretax charge related to the disaster. While the income was down from $5 billion a year earlier, it was a turnaround from the $17 billion loss posted in the prior quarter due to spill-related charges.
BP's stock rose 1.6%.
Pfizer (PFE, Fortune 500) posted a third-quarter profit that fell from a year earlier, but beat analysts' expectations excluding one-time charges. The drug maker said sales of its blockbusters Lipitor and Celebrex fell. Shares of Pfizer fell about 1% in the trading session.
Audio products-maker Harman International Industries (HAR) was the biggest gainer in the S&P 500 Tuesday. Its shares rose 12% on strong earnings.
Agriculture processor Archer Daniels Midland (ADM, Fortune 500) reported fiscal first-quarter profit below expectations. Shares fell 6.6%.
E-commerce software-maker Art Technology Group (ARTG) announced Tuesday that it has agreed to be acquired by Oracle Corp. (ORCL, Fortune 500) for $6.00 per share in cash, or approximately $1 billion. The deal represents a 46% premium over Monday's closing price. Shares of ATG were up 45% and Oracle rose 1.4%.
World markets: European stocks closed the session higher. The CAC 40 in France rose 0.6%, Germany's DAX climbed 0.8%, and Britain's FTSE 100 gained 1.1%.
Asian markets ended little changed. Japan's benchmark Nikkei index and the Hang Seng in Hong Kong each gained less than 0.1%. The Shanghai Composite ended 0.3% lower.
Currencies and commodities: The dollar eased against the euro, but gained against the British pound and the Japanese yen.
The U.S. dollar index, which measures the dollar against a basket of key currencies, fell 0.7%.
Earlier in the morning, the Australian dollar surged to a 27-year high against the American greenback, after Australia's central bank hiked its key interest rate a quarter percentage point.
Oil futures for December delivery rose 95 cents to settle at $83.90 a barrel.
Gold for December delivery gained $6.30 to settle at $1,356.90 an ounce.
Bonds: The yield on the 10-year Treasury note fell to 2.59%, from 2.63% late Monday.