Next! Market's focus turns to jobs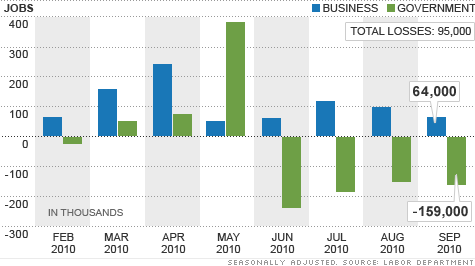 NEW YORK (CNNMoney.com) -- The elections and the Fed's quantitative announcement are finally in the rear view mirror. Now the real fun begins. It's time for investors to get ready for the latest report on the job market.
Investors were in a giddy mood Thursday as the markets seemed to approve of both the Republicans taking over the House and the Federal Reserve's new $600 billion bond-buying program.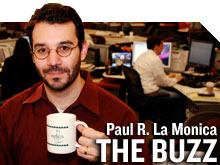 The Dow surged nearly 200 points and the S&P 500 and Nasdaq were each up about 1.5%. But are traders too enthusiastic ahead of Friday's key unemployment report?
Maybe not. There seems to be a growing sense that the labor market may actually be turning around -- albeit at an uncomfortably slow pace.
Economists are forecasting that an average of 68,000 jobs were added to the nation's payrolls last month, according to a survey by CNNMoney.com. The private sector is expected to have added 92,000 jobs.
That compares to a loss of 95,000 total jobs in September and gain of 64,000 in private sector workers. The overall loss in jobs was due to cutbacks by state and local governments as well as a pullback in temporary Census workers by the federal government.
I wrote last week about how strong earnings from online recruitment site Monster Worldwide (MWW) and bullish comments from Monster's CEO could be another sign that the job market is getting better.
Another online jobs site, Indeed.com, reported similar trends Thursday. Indeed said that October was the third month in a row where there was a year-over-year increase in job postings in all 12 industries.
One market strategist said that the expected job gains, combined with the Fed's QE2 move, are raising hopes that the economy is not going to slide into another recession after all.
Simply put, the gradually improving jobs numbers are a sign that a double-dip is far less likely now. Plus, the Fed is showing that it will do whatever it can to prevent one from happening.
"This is an economy of baby steps. It may tread sideways for another couple of years and we shouldn't expect miracles," said Jack Ablin, chief investment officer with Harris Private Bank in Chicago. "But investors are enthusiastic that it looks like the Fed will throw the kitchen sink at the economy to get it moving again."
Of course, this is not to suggest that the economy is suddenly in great shape. But those who were worried that a repeat of 2008 is looming may be too pessimistic.
John Norris, managing director of wealth management with Oakworth Capital Bank in Birmingham, Ala., pointed out that even though the Fed and elections got all the headlines this week, there were other positive economic signs for investors to cheer as well. So he thinks the move in stocks is justified.
The manufacturing index from the Institute for Supply Management for October came out on Monday and rose more than expected, for example. Most automakers reported decent jumps in sales for October on Wednesday as well.
"There have been enough positive economic reports this week that unless there is some bizarre seasonal adjustment, jobs growth should be modestly higher," Norris said. "I'm not worried about the market's recent rally."
Ted Parrish, co-manager of the Henssler Equity fund in Kennesaw, Ga., added that investors may finally be at a point where they are willing to interpret better-than-expected economic data as good news as opposed to an excuse to sell because of fears it may lead the Fed to be less aggressive.
Parrish said investors just want to see signs of real improvement in the economy.
"We have been through a lot in the past few years. Investors are still skittish. So anything that shows us the economy is getting better is a step in the right direction," he said.
Still, it may be premature to get overly excited about the job market and economy. To put things in perspective, even with the expected job gains, the economists surveyed by CNNMoney.com think the unemployment rate remained at 9.6% in October.
While the worst may be over in terms of job losses, it's not clear that companies are confident enough to really go on a major hiring binge. That will probably be needed to offset more expected job losses from budget-constrained state and local governments.
"The magic number for job growth is still 150,000 to 200,000 jobs added a month," said Paul Nolte, managing director at Dearborn Partners, an investment firm in Chicago. "Anything below that shows we're not creating enough jobs to really get the unemployment rate down."
- The opinions expressed in this commentary are solely those of Paul R. La Monica. Other than Time Warner, the parent of CNNMoney.com, and Abbott Laboratories, La Monica does not own positions in any individual stocks.