Commodities fall off a cliff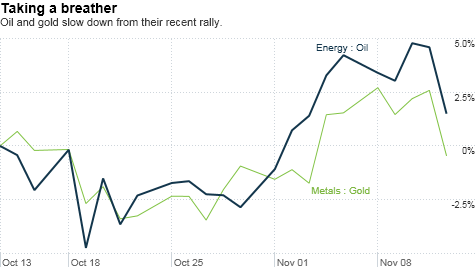 NEW YORK (CNNMoney.com) -- The commodities rally has cooled off, with prices for precious metals, oil and agricultural raw materials plunging Friday after a record-breaking run earlier in the week.
A surprise jump in China's inflation rate spooked investors and sparked a sharp sell-off Friday. China's announcement that consumer prices in the country rose 4.4% in October fueled fears that the world's second-largest economy is barreling ahead at an unsustainable speed.
Investors are concerned the Chinese government could raise interest rates, as a way to slow down staggering inflation. And because China is a major consumer of raw materials, that could lead to less demand for commodities across the board.
Precious metals plunged as a result. Coming off nearly daily record highs, gold fell $37.80, or 2.7%, to settle at $1,365.50 an ounce on Friday. Silver, which had been hitting 30-year highs, dived 5.3% to $25.94 an ounce. And copper, which was also rallying to multi-month highs, fell 2.8% to $3.91 an ounce.
Meanwhile oil, which has recently neared $90 a barrel in the all-out commodities rally, fell $2.93, or 3.3% to settle at $84.88 a barrel.
Agricultural futures also took a tumble: After surging to its highest level in 140 years of trading earlier this week, cotton fell 3.4% Friday. Sugar plunged 10.8%, and cocoa fell 3.6%.
Reining in the rally
Commodities have surged the last couple weeks, as investors bet the Federal Reserve's latest plan to stimulate the economy will drive asset prices higher.
The Fed's bond-buying policy, known as quantitative easing, is also expected to put further pressure on the U.S. dollar -- and since commodities are priced in the greenback, that would push prices higher.
Some traders speculate that Friday's pullback could mark a correction that's healthy for the commodities market.
"When things are this high, I'm pulling the reigns back for a lot of our clients, said Rich Ilczyszyn, a market strategist with futures broker Lind-Waldock. "The people in commodities in the last couple weeks have been having too much fun."
Ilczyszyn points to a saying among futures traders -- "Bear step up, elevator down" -- to illustrate his concerns that if commodities overheat, they could be in for a much deeper and more sudden drop later.
"You want the pullback to happen now in commodities, because if it doesn't, the pullback will be very painful later," he said.
David Nelson, a global strategist with Rabobank, a global bank focused on the food and agricultural sector, thinks the commodities rally may still have some steam left though.
Euphoria about quantitative easing is not the only thing supporting the raw materials run-up, he said. Drought across Russia and Ukraine earlier this year, and weaker-than-expected corn crops in the U.S. have also lent some support to the surge -- at least in agricultural materials -- he said.
"Economic theory tells us that if prices really rise, then demand typically goes down. But we aren't seeing that this time, so prices will continue to go up, as we see people continue to buy more," he said.